Enemy at the Gates- Blu-Ray Edition
DVD Reviews | May 31st, 2009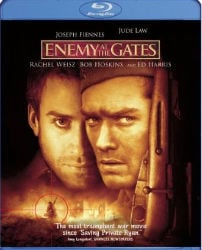 Starring: Jude Law, Joseph Fiennes, Ed Harris, Ron Perlman, Rachel Weisz, Bob Hoskins
Directed By: Jean-Jacques Annaud
Written By: Jean-Jacques Annaud, Alain Godard
Studio: Paramount Pictures
Buy on Amazon.com
World War II story that revolves around the Soviet battle with the Germans that is rarely ever heard of here in the US. Starring Jude Law and Ed Harris as two enemy snipers who engage in a cat and mouse fight till the death. Taking place during the siege of Stalingrad, this story focuses on a small one on one battle, rather than the whole World War II Soviet battle. At times, the film lives up to the expectations but lacks in certain areas.
Vassili (Law) grew up as a farm boy but was quickly thrown into battle as a grown up and was used to create a hero in the eyes of the Soviets. Vassili's skill was that he was a sniper, and a very good one at that. He was responsible for killing many Germans and picking them off one by one. Germany was furious at this news and sends Major Konig (Harris), a marksmen in his own right, to search and kill only Vassili in the destroyed city of Stalingrad. Commissar Danilov (Fiennes) is the one responsible for Vassili's fame as he publishes news from the war and makes Vassili such a big figure in the Soviet Union that it has Vassili nervous and scared he won't deliver on his stardom. Danilov also shares the same feelings that Vassili does for a Russian soldier, Tania (Weisz) which creates tension between the two who were once friends.
While most of the action is based primarily on the cat and mouse game between Vassili and Konig, it loses it's power and importance of the overall battle between the Soviets and Germans. The re-creation of the city of Stalingrad is impressive as the director really had a vision of what that ruined city would have looked like. The cinematography was also very good as it captured scenes from many angles and some that were unorthodox, particular when people were getting shot at or blown to bits. Jude Law is charismatic as the hero Vassili, and Harris plays a great villain, but most of the characters don't get enough development to warrant emotions one way or another, perhaps with only Vassili being the exception. The love story could have really been cut from the film altogether, and just focused on the battle. I mean, I don't think the ladies are rushing out to see a WWII film, except maybe to look at Jude Law.
Only a few featurettes make up the bonus features of this blu ray set. Two 15-20 min featurettes, with one focusing on Law and Harris and the filmmakers. In the featurette, they all discuss what it took to train for the film and to learn how to be a sniper. A pretty insightful short documentary as well as "Inside Enemy at the Gates," which features some interviews that were previously seen in the other featurette. The film looks great in high definition and what a better way to see a war film than in Blu-Ray? Yeah, there is some noticeable film grain but it's really not that bad. It's usually during dark scenes and in the background which doesn't take away from the performance at all. The film is preserved nicely, with its intent to be seen with dark, bland colors as the filmmakers imagine that is what war is intended to look like. It shouldn't feature warm and vibrant colors. The audio is clear and delivers booming base especially during the great action sequences. Enemy at the Gates is a good film, not great but definitely belongs on any War Buff's shelf.
Features:
Through The Cross hairs
Inside Enemy at the Gates
Deleted Scenes
Theatrical Trailer
Audio:
ENGLISH: Dolby TrueHD 5.1
SPANISH: Dolby Digital 5.1
FRENCH: Dolby Digital 5.1
Video:
Widescreen 1.78:1 Color
Subtitles:
English, Spanish, French, Portuguese
Favorite Scenes: Invasion of Stalingrad, The Hunted hunts the hunter, Final Showdown
Rating: R
Running Time: 131 mins
Extras Rating:
Overall Rating: