The Goonies: 25th Anniversary Collector's Edition
DVD Reviews | Nov 8th, 2010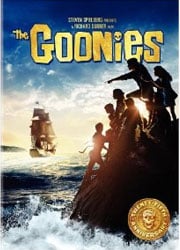 Starring: Sean Astin, Corey Feldman, Josh Brolin, Jeff Cohen, Jonathan Ke Quan, Kerri Green, Martha Plimpton, John Matuszak, Robert Davi, Joe Pantoliano, Anne Ramsey
Written By: Steven Spielberg, Chris Columbus
Directed By: Richard Donner
Studio: Warner Bros
Buy On Amazon.com
Has it been 25 years already? Man, I feel freakin' old right now. The Goonies is one of my favorite movies when I was kid (and now) and I know just about every line spoken in the film. The 25th Anniversary Collector's Edition for the DVD doesn't contain anything new but there's some collectibles worth owning if you're a die-hard fan.

The Goonies takes place in Astoria, Oregon and centers around a group of kids that are seeking adventure one last time before their houses are torn down and they are forced to move away. They discover a treasure map that could be the lost treasure of pirate One Eye Willie. Mikey (Sean Astin), Mouth (Corey Feldman), Chunk (Jeff Cohen), and Data (Jonathan Ke Quan) begin their adventure and come upon an old restaurant by the sea; but they are unaware that the notorious criminal family the Fratellis are using that place as a hideout. After encountering the Fratellis for a few minutes, they leave the place when Mikey's older brother Brandon (Josh Brolin) gets them. Two girls, Andy (Kerri Green) and her friend Stef (Martha Plimpton) show up as well to see what they are doing. All of them go back into the restaurant and find out the true intentions of the Fratellis and are forced to continue onto Mikey's plan to find the treasure when the Fratellis return. The Goonies hope to find the treasure so they can buy back their houses, but they have to get pass the booby traps and escape the Fratellis who are hot on their trail.
The Goonies is pretty much a perfect movie for me. It has lots of comedy, adventure, pirate stuff, fun water slides, booby traps, and rocky road ice cream. The film has held up very well over the years and doesn't feel old to me in any way. It's been a few years since I last saw The Goonies and I found myself still laughing out loud for many of the scenes. Every scene Chunk is in, the scene where Mouth is translating to Rosalita, The Fratelli Brothers fighting with each at the end. This movie is timeless for me and I can quote just about every line. Couldn't have asked for a better cast and crew to do this movie. Re-watching this made me think back when I was this age, watching this movie, and wanting to do the exact same thing they did. Well not the whole getting chased by criminals and almost dying, but going on adventures like this. I think every person can relate to this movie in one way or another.
I'm still hopeful that there will be a sequel, only if it's done right though. I still think it will be cool to have Mikey own his Dad's museum now, and everyone's kids go off on a pirate adventure somewhere that gets the old crew back together and goes after them. I think the screenplay that was out there a few years ago was exactly that but that eventually got dismissed. Who knows, I think it will eventually happen. I just hope The Goonies isn't remade or what I've been hearing, turned into a Broadway musical. That will just be outright stupid and silly.
With this DVD release, don't expect any additional scenes added back into the movie or anything like that. This is simply a repackaging release (same release as the one that came out a few years ago). It has some souvenirs and collectibles for the die-hard Goonies fans. But I'm honestly not interested in that stuff since these sets take up too much space on my shelf. I think the only way this release would be worth it if you got the Blu-Ray instead. Otherwise, stick with the cheaper release.
Features:
The Goonies 25th-Anniversary Exclusive Board Game – Escape From One-Eyed Willy's Cave! (2-4 Players)
The Goonies 1985 Souvenir Magazine 64-Page Reproduction
The Goonies "Where Are They Now?" Empire Magazine Article Reprint
10 Awesome Storybook Cards
Video:
Widescreen 1.85:1 Color (Anamorphic)
Audio:
ENGLISH: Dolby Digital 5.1
ENGLISH: Dolby Digital Surround
SPANISH: Dolby Digital Mono
FRENCH: Dolby Digital Surround
Subtitles:
English, Spanish, French
Bottom Line: Purchase the Blu-Ray instead!
Running Time: 114 mins
Rating: PG
Extras Rating:
Overall Rating: