Less Than Jake/Pepper @ Playstation Theater, NYC
Live Reviews | Feb 20th, 2017
Date: February 17th, 2017
Opening Bands: The Attack, The Bunny Gang
Less Than Jake and Pepper headlined the Playstation Theater (formerly Nokia Theater, formerly Best Buy Theater and whatever else theater it was before those) on Friday, February 17th in NYC. It was my first show of the year so couldn't have asked for a better show!

I haven't been to Playstation Theater in awhile, last time it was Best Buy. Actually, it was probably the last time Less Than Jake played there in 2015 with Reel Big Fish. They have metal detectors now which is kind of annoying but since they had that incident at Irving Plaza; I could see why some venues are doing this now. Once I got downstairs, I was bummed that they had the stadium seating closed off since I guess it wasn't a true sold out show. The crowd was still coming in when The Attack came on stage. It's been 5 years since last seeing them but they are still great from what I remembered. Very fast punk rock; similar to Street Dogs, H20, Vision kind of style. Not sure the crowd was into it as they should have been but I dug their set a lot. They released a new album called On Collection last year, so check that out.
Nathan Maxwell from Flogging Molly sideband is The Bunny Gang, which came on after The Attack. I never heard too much from The Bunny Gang but they were fun to see. Hard to describe their sound since it's a mixture of a lot of stuff. But definitely have a dubby, reggae, ska, and other genres kind of vibe. Nathan and the band were very PMA in between songs. I think the band won some people over by the end of it. Nathan made a joke to a fan early on since he was being heckled about a trumpet player. Nathan pointed out it's actually a trombone. If you're going to heckle, at least get the right instrument. Not sure what the name of the song was, but about the 4th song into their set was a good one and danceable. I'll have to listen to some of their music now but it was interesting.
Less Than Jake played third this night, which I was surprised but then again this was a co-headlined show. First time I saw them play was in 96 at Vintage Vinyl and 21 years later, it's still a blast to watch them perform. They started things off with "All My Best Friends Are Metalheads" which is always great to hear. The band has a new EP out called Sound The Alarm so they played stuff from that as well like "Things Change" and "Bomb Drop."
During the set, Chris and Roger were making fun of the all the name changes of the venue. They said next week it's going to be called the Tampon Theater. I got a chuckle from that. At one point, they had a guy who looked like Soundgarden's Kim Thayil come on stage and dance around. Then a guy who said his girlfriend dumped him after their last show in NYC, came on stage. They had another girl come up stage and dance with him for a song. Not sure but don't think those two really hit it off. The girl then had Chris give her parents a shout-out and they came on stage too. Chris and Roger commented saying how hot they were, that they were all just a hot family. Then things went weird when the other kid got on the mic and said such and such is a bitch. The crowd booed him but I think they might have thought he was saying the girl he was dancing was kind of bitch. At least that what I thought at first. He was quickly booted from the stage after that. It's always awkward seeing people dance on stage, I used to do it as well and it was awkward then too.
So some of the songs that they played included "Dopeman," "Automatic," "The Rest of My Life," "Johnny Quest," "P.S. Shock The World." At the end of the set, they played one of the first LTJ songs I've ever heard, "My Very Own Flag" and then finished it with "Plastic Cup Politics." They came back and played a few more for an encore. Started that off with one of my favorites: "The Science of Selling Yourself Short." "Gainesville Rock City" followed and then "The Ghost of You and Me" ended the encore in spectacular fashion. Seeing the band never gets old, so much fun.
Pepper was supposed to come on around 10:45 but didn't come on stage until around 11. A little late for me, and sadly didn't get to stick around too long for their set. I saw about 5 or 6 songs and then had to get home. From what I saw, they were great and played "Vacation" off their new album Ohana. I really want to stick around because it's been about 10 years or so since I last saw them play at Warped Tour. Plus, their self-titled album is my favorite of theirs and wanted to hear "Fuck Around." But, I had to get home since my kid was probably going to wake me up 5 hours later. He ended up waking up right when I got home anyway and I had to be up with him for a little awhile. So much for sleep. Apologies to Pepper, I'll stick around next time!
Here are some photos from the show, I'll have all the photos up on SkaPunkPhotos.com when I relaunch the new site in the next week or so.
The Attack
The Bunny Gang
Less Than Jake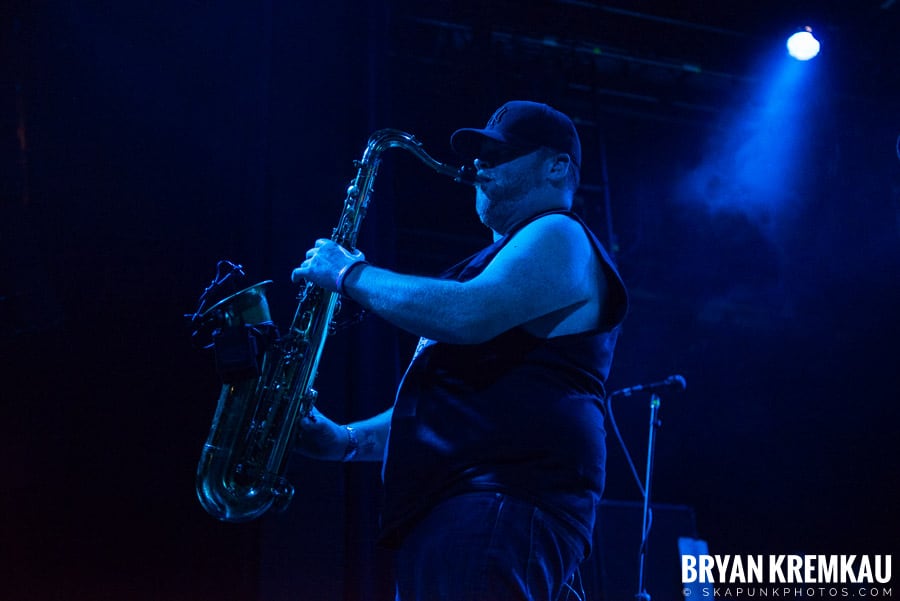 Pepper