Sugar Ray @ EPCOT, Orlando, Florida
Live Reviews | Nov 17th, 2023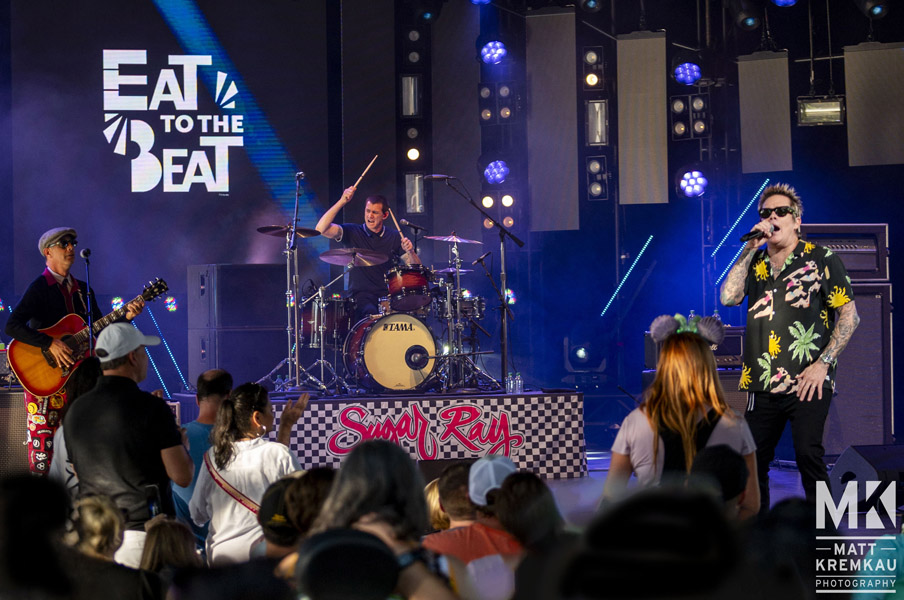 Photo by Matt Kremkau
Date: October 8th, October 9th 2023
Last month, while vacationing at Disney World, I got to check out Sugar Ray at Epcot's American Garden Theater for the annual Food & Wine Festival and Eat to the Beat concert series.

I last saw the band here at Epcot in 2015, so it's been awhile. I brought my camera along of course. For the first show I opted for a dining package ticket so I could get a decent spot for photos. The band plays 3 sets for these shows a night, usually the same 4 to 5 songs with 1 song usually changed for each set. Of course everyone wants to hear the hits so that is what makes fans come out in force to see Sugar Ray each year at Epcot.
The band played "Someday," "When It's Over", "Every Morning," and without surprise, "Fly." Singer Mark McGrath always likes to joke he is the Music Celebrity Jeopardy Champion so he tells the band to throw 90's songs at him, which results in a fun medley OMC's "How Bizarre," Len "Steal my Sunshine," and Backstreet Boys "I Want It That Way."
For the first show of the night on Night 1, we had a cool moment in the show when Sugar Ray's road crew member came out on stage and another member of the team was in the audience came onstage and he proposed to her, and she said "Yes." Now, it seemed genuine and actually happened but the thought did cross my mind if it was happening more than one set with the proposal. Funny enough, I ran into the newly engaged couple the next day in the Magic Kingdom. I did congratulate them, but forgot to mention I captured the moment from my seat, which wasn't the best vantage spot but there are some photos below. Night 2, was just as fun as the first night, but I was further back and didn't take as many photos. Here's some selects from each show. Check out Sugar Ray if you get a chance, it's a fun show and nostalgic as well!