Date: November 17th, 2018
Opening Bands: Cenzo, Sgt. Scagnetti, Thirteen Towers
It's been about 3 years since I last saw Mustard Plug when they played Knitting Factory in Brooklyn. This time, they were back in Manhattan at tiny Bowery Electric. I guess all the smaller-sized clubs have closed down so it's been harder and harder to book shows in Manhattan of late. Besides Mustard Plug, the lineup was stellar from start to finish with Thirteen Towers from DC, Sgt. Scagnetti from CT, and Cenzo from NY & CT I guess.

My buddy Ray and I met up before the show a little early so we could record a podcast episode. It's been a few weeks since I last did one and wanted to do one. Originally I was trying to do one with Mustard Plug but that didn't pan out just yet. Perhaps soon I'll do one with them over the phone/skype. After that we grabbed some pizza and go to Bowery Electric right as Thirteen Towers was opening the show at 7pm. I never heard of them before but I liked their sound and stage presence a lot. They were a lot of fun to photograph especially, and really liked their cover of "American Jesus" by Bad Religion. At one point the trumpet player, who looked eerily like ReadJunk's Creature of War (but wasn't), put on a banana outfit. I'm assuming for the song "Two-Banana Habit" from their new EP of the same name. You can check out their music on Spotify.
After then was my buddies in Sgt. Scagnetti. Second time seeing them this year so thankful for that, this time Carmella (keys and sax) was playing with the band. Dave and Carmela's kid had a high fever and they still made it out to the show. They played a bunch of stuff from their last two albums, as well as the two new songs ("Murder House," "Funai Elektric") they released this year. Seeing them again definitely brings back memories of seeing them so many times in the late 90s. I just love it. They are probably the tightest they've ever sounded as well and so much fun live. Of course I love hearing songs like "Family Fun Four Pack," "Dirt Bike Kid," "Animal" and "Drop and Roll." During "Family..,"
Steve forgot the lyrics and I surprisingly knew them when he forgot. But then Steve asked me what they were in-between songs and I already forgot. Being a singer is tough sometimes, I know I couldn't do it just for the memorizing of the lyrics. Missing a lyric happens but Steve is a great frontman and very funny. The best song of the night was hearing "Sideshow," which sounded awesome and just how I remembered it. Ever since I heard that song on Skarmageddon 3 compilation, it's been my favorite song by Sgt. Scag. I had to skank a long to that one when they played it, which brought back even more memories. They were fun to see again and can't wait to hear more new songs too!
After Sgt Scag was Cenzo, which features Vinny from Pilfers and Bim Skala Bim and Mike from Spring Heeled Jack. Believe it or not, I never really listened to Cenzo when they were briefly around in the early 00s. So this was the first time seeing Vinny's other band and it was so much fun! He's a great showman so it makes it easy to enjoy his music and set. He was singing and playing so close to me in the club, I had to keep moving my head backwards because I thought I was going to get hit several times. Of course he probably knows what he's doing and knows the length of the t-bone. My camera did get hit once when I saw Slow Gherkin play Apple Stomp 2.0 so I still feel weary of that. I was joking around when Vinny was playing and pretending to do limbo with the t-bone.
Cenzo played songs from their album Maybe Now, which you can listen at Spotify and buy digitally as well. Well, at least at Amazon you can. The band covered Led Zeppelin's "Immigrant Song," or in their own way which was cool to see. At one point, Vinny made me hold up his phone to do Facebook Live for his friends. During that he played probably the best song of their set, which was the cover of the Polish 80s band Lady Pank called "Minus Zero." I never heard of the band so I had to go look it up after the show. Cenzo definitely makes it a lot more fun to hear live. Vinny was going into the crowd and singing with them a lot which made for some fun photos. It was a party in the tiny bar but it was certainly a good time.
Up next was Mustard Plug, who traveled in a nasty snowstorm to get to the East Coast. What bands have to do sometime to get to shows. That's why you should always try to get some band merch and support them whenever you can. Mustard Plug were one of the first ska bands I heard and continue to still be awesome live so whenever they come to town, I make it an effort to see them. They haven't played NYC area in 3 years, last time being in Brooklyn.
They started things off with "Not Enough" and knew it was gonna be a rowdy set. Lots of pushing to start. My buddy Ray and I were up front and trying to hold it together so we didn't get pushed into the band or amps. The guys played songs like "Aye Aye Aye" and "Hit Me! Hit Me!" in the beginning, and played some older tunes as well like "Go," "You" and "Box." For the last year, I've been listening to "Away From Here" nonstop so I was beyond happy to hear that in the set that night.
Middle of the set, I had enough of the moshing, beer spilling and crowd surfing so I got out of the front and hung out with Roger and Pam from Rude Boy George a little. Vinny was hanging around and watching as well. On the way out, I spotted Coolie Ranx and said hey, so it just felt like a big ska family party. Why I love going to ska shows, so many people I consider my friends now. Back to Mustard Plug, after I left the front, they played Fugazi's "Waiting Room" and one of my favorites "Yesterday." "Everything Girl" is up there too with one of my favorites and that was played too. If only they played "Too Stupid" and "Thigh High Nylons," it would have been a perfect set. Towards the end, they played the always entertaining "Mr Smiley," "Throw a Bomb" and "On and On." Of course with "Mr Smiley," Dave took out his fake butcher knife and was slaughtering the crowd so that made for some fun photos.
They finished up their set with, of course, "Beer Song." They came back to play a few more songs since they have a lot of time left before curfew. During the encore, they played "Gone and Few," "Lolita," and finished up the night with "We're Gunna Take on the World." Such a fun show from start to finish. I thought the small club might be an issue but worked out fine. It was a tight fit with the way the setup is but the stage is big enough to hold ska bands. I'll take this club instead of having to go to Brooklyn. Mustard Plug always deliver the goods so if they are in your town, make an effort to go see them….and Thirteen Towers, Sgt. Scagnetti and Cenzo for that matter!
Some photos from the show, I'll have more up on SkaPunkPhotos.com this week.
Thirteen Towers
Sgt. Scagnetti
Cenzo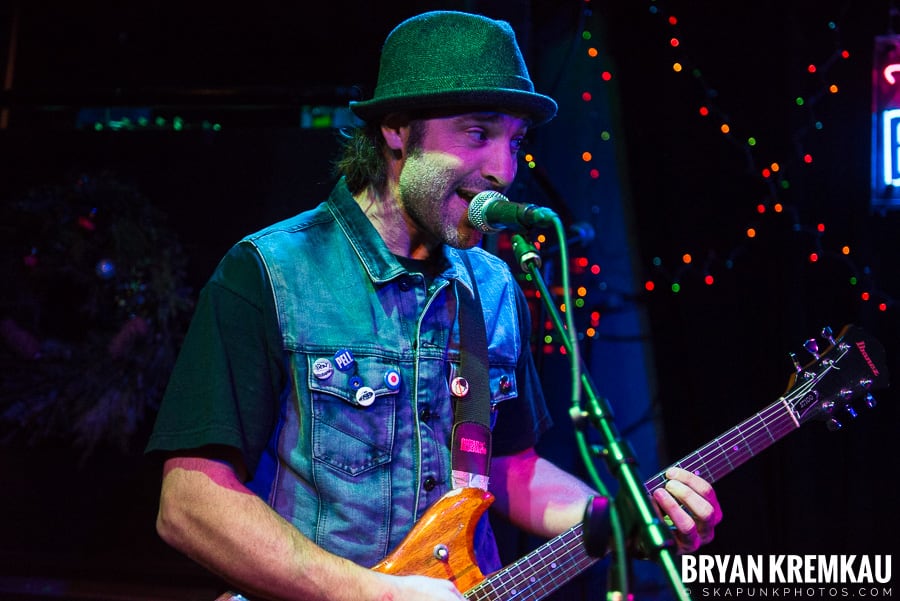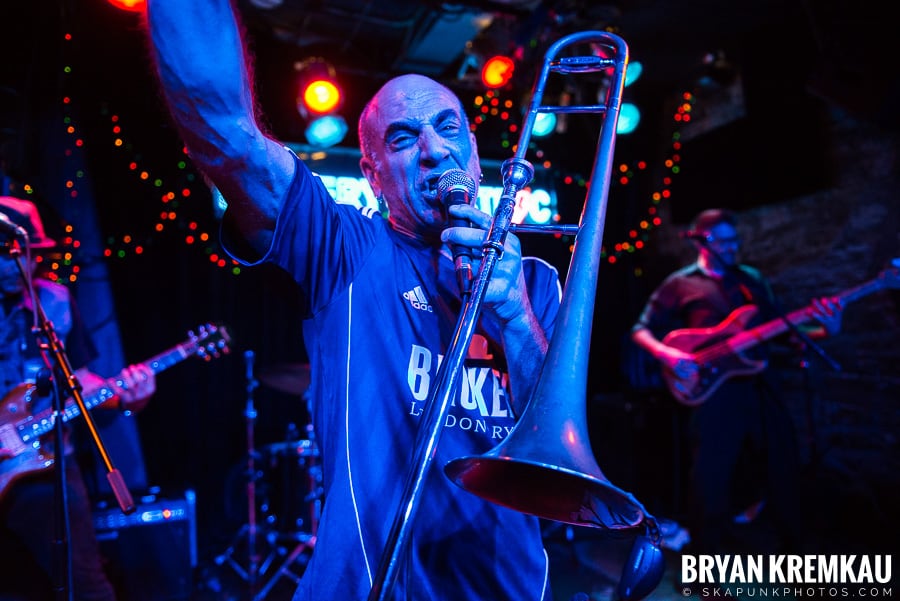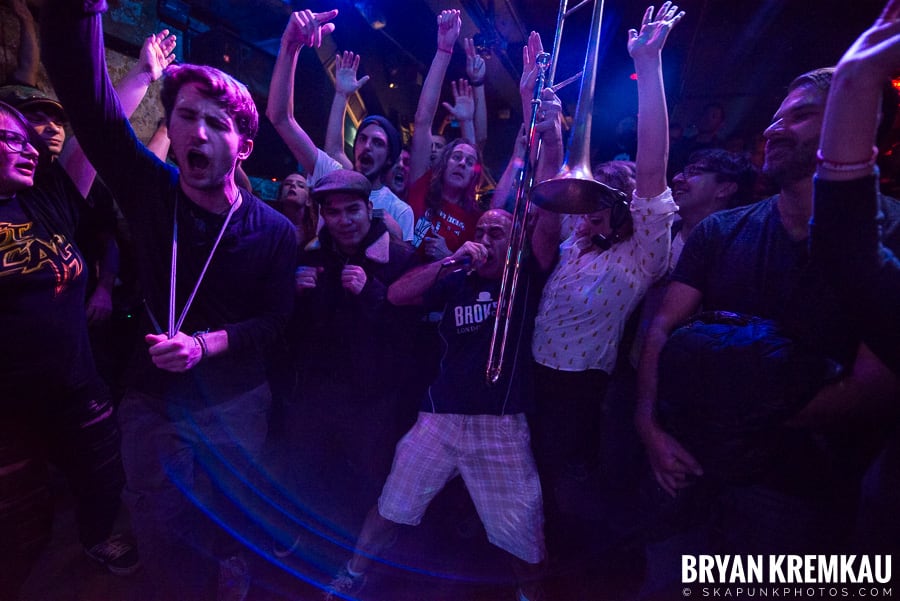 Mustard Plug