Pilfers @ The Wick, Brooklyn, NY
Live Reviews | Mar 18th, 2015
Date: March 14th 2015
Opening Bands: Fear Nuttin Band, Rude Boy George, The Rudie Crew, Leaving Lifted, Sweet Lucy, Native Alien Tribe
The Pilfers record release party happened last Saturday in Brooklyn at the almost-still-under-construction Wick. There were a bunch of bands playing, DJs, long walks to the bathroom in the rain, the show had it all! oh yeah…and Pilfers actually released their new album on the date they said they were going to do, which is rare for some record release shows.

I've never been to The Wick before but the club definitely has a lot going for it. It's a massive space but some things need to be upgraded or finished before more shows go on there. I think there needs to be a proper lighting gig, or at least some front lighting. They had nice LED lightings on stage which lit the stage well for the most part except the front. It was hard to hear the singers at times too so not sure if it was the brick walls. Also think having a bathroom inside the club is probably something you should have. You had to take a walk outside, go down stairs, walk through the smokers and back into the bar next door. I was joking around, saying we needed google maps to find the bathroom. But the space is great, the stage is high enough and the venue is right off the L train. I'd definitely would see more shows there.
Pilfers were doing something a bit different for this show. They would open the show and played 20 minutes of older stuff. Then they would 6(!) other bands play 20 minutes and then headline again later on. That way everybody could see them and the other bands instead of show up late. Even though the sets were 20 minutes, it was too much for a night show and Pilfers didn't end up getting on stage until 12:15am. I would have started the show 2 hours earlier if you had that many bands but that's just me. Thankfully it was a Saturday night.
Coolie Ranx and Nick came out first and played a duo version of "One Day." That was a bit different, for sure. Can't remember them ever doing something like that but liked it. Once that was done, the rest of the band came on stage to play some older songs. It didn't take long for someone to shout out "where's Vinny." Coolie responded "Vinny hasn't been in the band for 5 years now." It's a new era for Pilfers, which isn't necessarily a bad thing. Other songs they played in that little set were "Show No Fear" and I think "Why."
After the Pilfers, The Native Alien Tribe played their set and I enjoyed a song or two. I overheard people saying they were like Rage Against The Machine. Out of the bands, these guys probably didn't fit the bill but you can't pinpoint one style for Pilfers either. Coolie wants to showcase other bands which I would do as well if I was putting on a show. After that band, the always fun Rude Boy George played for a few songs. They played songs like "Always Something There To Remind Me," "The Metro" and "Kids in America." Fun set and you can see them play a lot more in the upcoming months in the NY area. Our buddy Steve is no longer in the band but they got a new drummer, Dave, from Sgt Scagnetti. It was fun catching up with Dave, about playing shitholes like Sea Sea's back in the day.
After RBG was Sweet Lucy, from Staten Island. They had a reggae rock sound and I liked what I heard. I really don't know much about them to say anything in depth. The Rudie Crew, featuring members of Bigger Thomas, we were up next. I never saw the Rudie Crew, which is surprising but I never did. I loved their set and so did everybody else considering everybody wanted them to play another song. They would be the reason why Pilfers went on 15 minutes later. Their bass player was fun to watch, headbanging and moving all over the stage jamming out. I'll have to check out The Rudie Crew more often though!
Fear Nuttin Band were up next and it's a name I've seen passed around a lot but never heard anything from them. Never heard their albums or seen them live. I was blown away by their set and they had incredible energy on stage! Bouncing all around, going in the crowd, just a super fun set! It actually seemed like the majority of the crowd was there for them. Everyone was into their set, including the other bands (saw Coolie singing along in the crowd). Their sound actually reminded me of early Pilfers, where it was really heavy hardcore/rock mixed in with the reggae. I definitely have to get their albums after this!
Next up was reggae rock band Leaving Lifted from Detroit. No offense to them, but Fear Nuttin Band would have been a better transition to Pilfers. The entire show didn't have any order so that's why certain bands went on at certain times. But Leaving Lifted were good, and another band I want to check out online and listen to some of their music.
By this point, it seemed like the amount of bands and the actual time was getting to people. It seemed a lot of people left after Fear Nuttin Band or didn't stick around for most of Pilfers' set. But the Pilfers came on around 12:15 and played until about 1:30am of a set comprised of nothing but new songs. Trumpet player Kevin Batchelor played on the new album and played with the band on a lot of the songs during the headline set. He's a great trumpet player but it's something about the intensity of Vinny's trombone that was missing from their set. Vinny hasn't been with the band for awhile now though, besides an occasional show in NY from time to time. This is a new chapter in Pilfers history. I believe the band opened up with "Nothing's Ever Good Enough." Coolie walked through what he wanted the crowd to say a few times and off they went. It's a catchy ska tune and my favorite off the new album.
Having Pilfers play an entire set of new songs didn't sit well with some fans and they began shouting out different songs. Coolie responded, we played those songs for 15 fucking years..something like that. I can see the concern of the fans, but if this was another show the band would have mixed in some older songs. But since they played a few of them in the beginning, they didn't break any old ones out. Besides, isn't that what everybody was there to hear…new songs!?
Towards the end of the set, Coolie's son Mark came out and sang over "History of Love" and then did a duet together after that as well. The smile on Coolie's face when he was done singing with his son; you can tell he was a proud papa. Other new songs that stood out to me included "From Far," "Follow You Blind," "Easy Man" and "Done Nothing Wrong." The later they played last and I think they were going to play an encore with Vinny but he wasn't around so the show was basically done. At that point, it was so late at night, everybody was drained and everybody wanted to go home it seemed. All in All, I enjoyed the show a lot but wish the show had maybe a maximum of 4 bands. The new album, From Far, is now available at the Pilfers store so be sure to get a new copy. It's new Pilfers songs after 14/15 years!!
All my photos will be posted on SkaPunkPhotos.com this week but here's some:
Pilfers: Set 1
Native Alien Tribe
Rude Boy George
Sweet Lucy
The Rudie Crew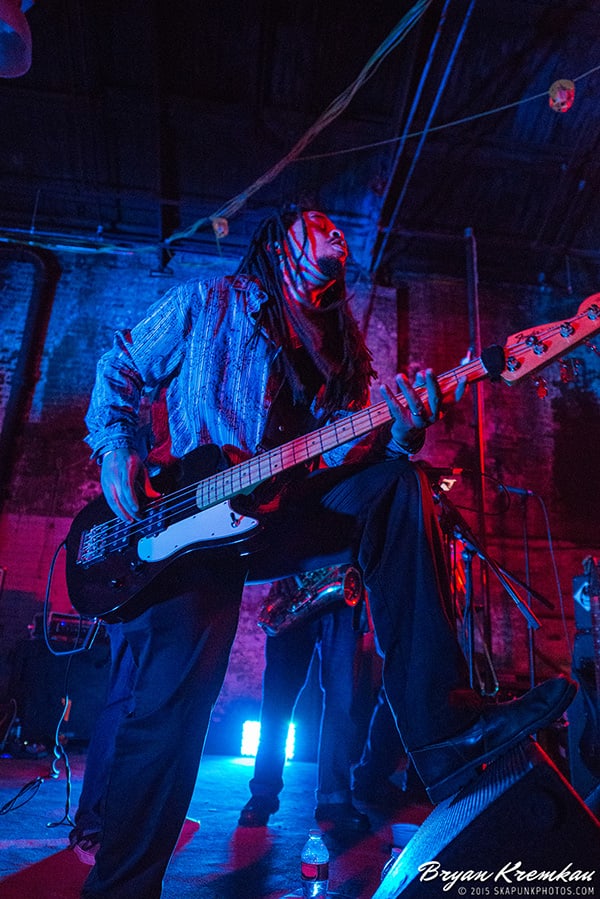 Fear Nuttin Band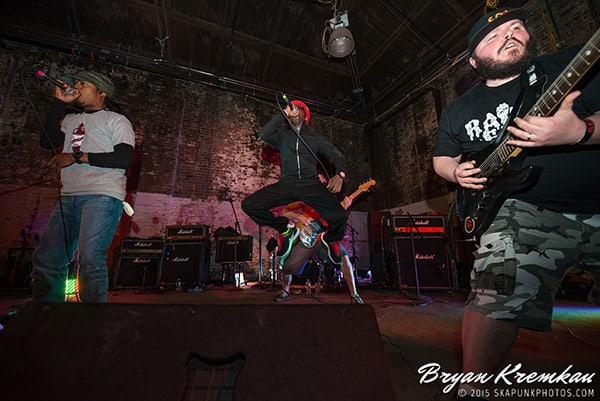 Leaving Lifted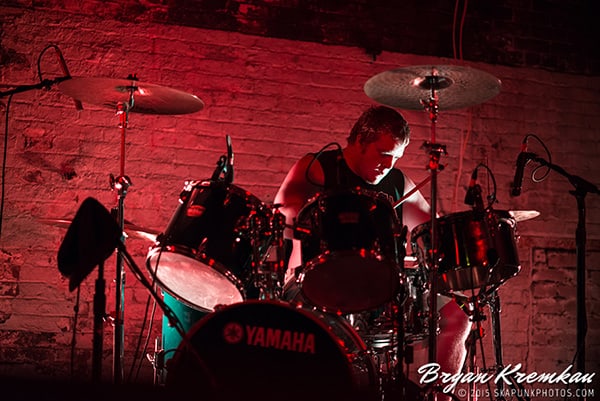 Pilfers: Set 2