The Aquabats @ Irving Plaza, NYC
Live Reviews | May 9th, 2014
Date: May 7th 2014
Opening Band: Koo Koo Kanga Roo
Who would have thought a bunch of guys dressing up would last 20 years. Well it worked for Kiss, Gwar, and other bands so why not a ska band? As soon as I heard "CD Repo Man" on California Ska-Quake, Vol. 2: The Aftershock, I knew I was going to like this band. Many years later, the Aquabats returned to NYC to play Irving Plaza with Koo Koo Kanga Roo. The concert had everything from little kids and grown-ups dressing up like The Aquabats to dance songs about cat parties.

For a Wednesday night show, it was a decent size crowd. The crowd was mostly ska/Aquabats fans, parents with their children or parents dressed up as Aquabats along with their children. I felt like I needed to put in earplugs before the music even started. ADD children without anything to do = screaming children running around Irving Plaza. The fanbase has changed slightly since the last time I saw The Aquabats. The band have/had an awesome TV series on the HUB network, which I hope they bring back for a third season. The show is just pure genius and a lot of fun, which pretty much sums up The Aquabats live show as well. Seeing all the kids there was a great sight, even though some of them should have been wearing some ear protection.
The opening band was Koo Koo Kanga Roo, who I saw for the first time last November with Frank Turner. I said back then that they would be perfect for an Aquabats show and well, that was the next tour they ended up on. Mike Park's Fun Fun Records is releasing their new album Whoopty Whoop on May 13th!
The dancy party group consists of Bryan and Neil dancing and doing aerobics on stage. They sing about a lot of silly crap and it's hilarious to watch. After awhile, the songs and music start to get burned into your brain. I guess that's a good or bad thing depending how you like their music. Some of the songs they played last night include: "Fanny Pack," "The Coolest Person," "Cat Party," "Dinosaur Stomp," "Unicorns R Real" and "Shake Yo Foot." The "Cat Party" song will get stuck in your head, trust me. Towards the end of the set, the duo went into the crowd and got everybody dancing and singing along. The music might not be for everybody but you can't help but laugh and smile when watching these guys perform.
The Aquabats hit the stage and played for more than hour and half. They started things off with their Aquabats! Super! Show! theme song, which was fitting. I've been a fan of the series since day 1 and hope it continues because its hilarious, for both children and adults, and is quite clever. After the theme song, they played "Martian Girl" and "Cat with Two Heads." Their set was a wide variety of things; very early tunes, a lot of new stuff and some covers thrown in. I'm a fan of both, I love the early ska-centric stuff but then I love new(ish) songs like "Hey Homies" and "Shark Fighter."
I can't believe it's been over 10 years since I last saw The Aquabats. Put this in perspective, the last time I photographed the band I had a film camera. Throughout the night, MC Bat Commander was pouring water on people, trying to kick toilet paper at the disco ball and just making me laugh. He kept asking the parents how they were doing since they were holding up their kids all night. Around "Shark Fighter" and "Pizza Day," Ricky Fitness broke out Outfield's "Your Love" for a little bit and that was great to see. Another cover they played was The Buzzcocks' "Ever Fallen In Love…"
Fans of the TV series should be happy since the band played "Burger Rain," but sadly no raining burgers came down. They also played that Science song that was on Season Two. Other highlights of the show included them playing "Super Rad," "Magic Chicken," "In My Dreams," and "Hey Homies." Clap clap! They finished the set with "Tarantula" but came back shortly to play "Red Sweater." The crowd certainly loved hearing that one and "Fashion Zombies" the most I think. Although "Super Rad" got a lot of applause and dancing as well. The last song of the evening was "Pool Party," complete with beach balls being bouncing around in the crowd.
It's been too damn long since last seeing The Aquabats and I hope they don't take forever to come back to NYC! If you're a fan of the band and the TV series, be sure to write to the HUB Network and tell them you want to see another season of The Aquabats! Super! Show!
Here's some photos from the show. Be sure to visit SkaPunkPhotos.com where all the photos will be posted!
Koo Koo Kanga Roo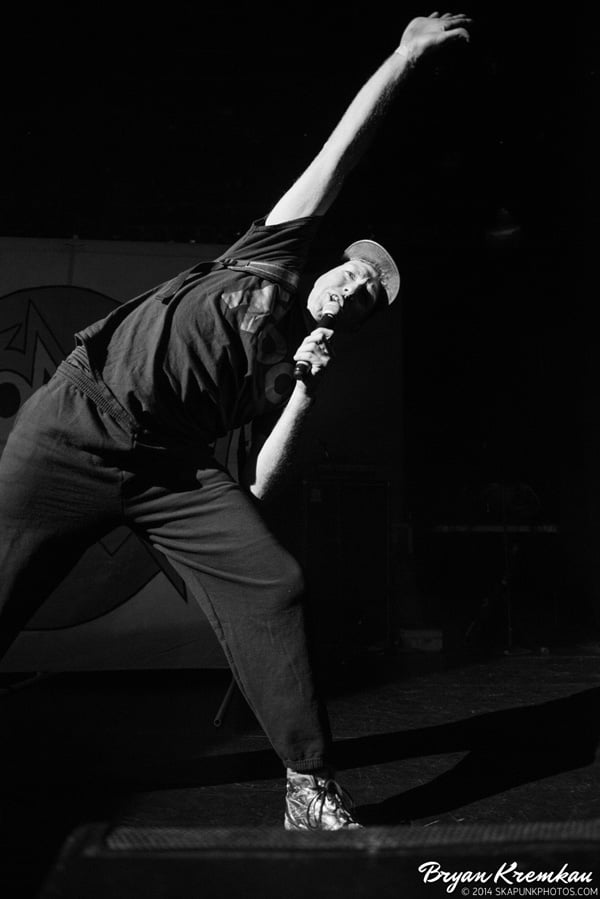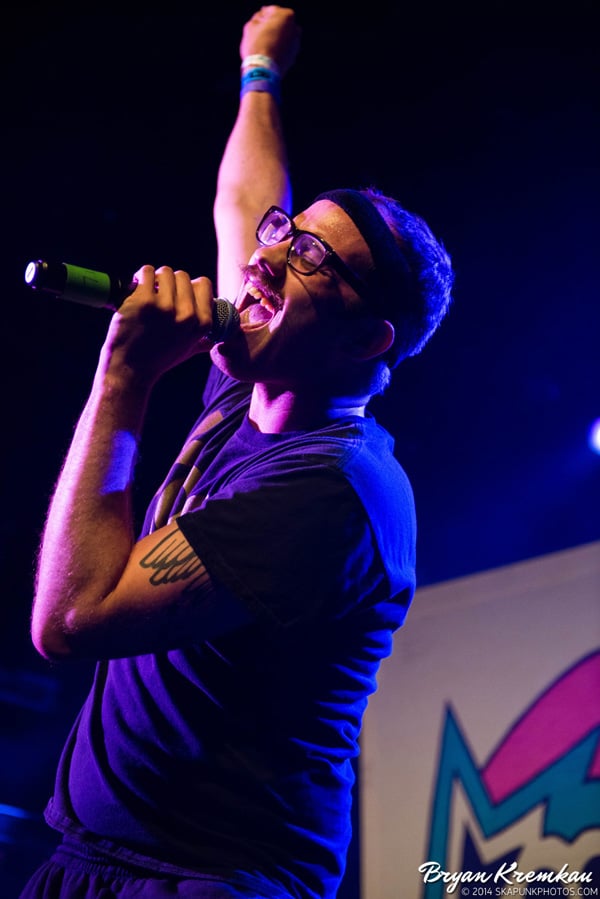 The Aquabats