The Cranberries @ Nokia Theatre, NYC
Live Reviews | Nov 19th, 2009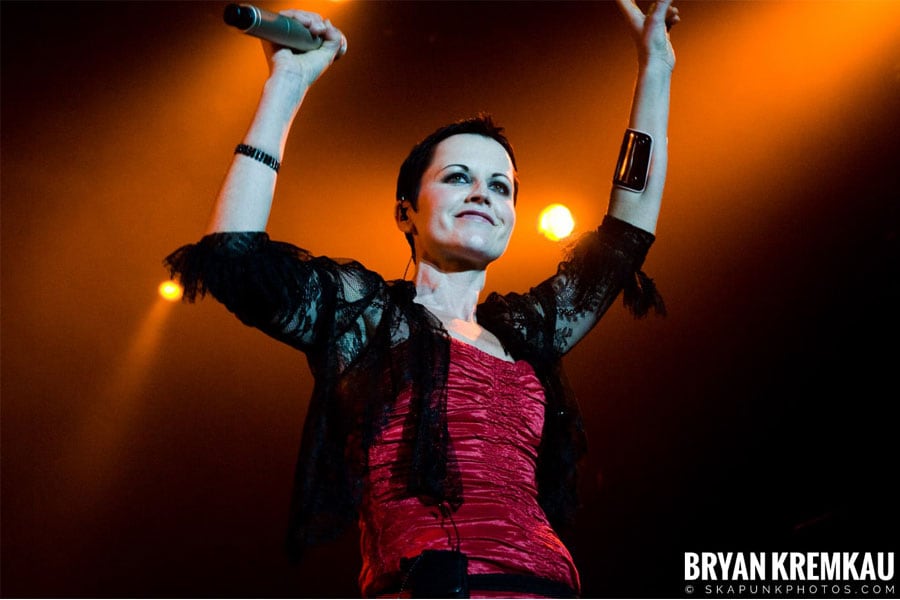 Date: November 18th 2009
Opening Act: Griffin House
Band Link: www.cranberries.com
The Irish rock band The Cranberries are back, after taking a hiatus for a few years. Dolores O'Riordan and the band made a stop at Nokia Theatre in Times Square in New York City last night. The concert was sold out, and something tells me that they could have sold out another 2 shows at least.

I'm sort of late in the game when it comes to the Cranberries. While I enjoyed some songs when they appeared on MTV and the radio, I became a huge fan of the Cranberries when they released their last album "Wake Up and Smell the Coffee." I was looking forward to seeing the band perform the songs live. Dolores just released a new solo album called "No Baggage" which is very good. Fans were treated to a few from that album as well as the classics.
I arrived at the venue a little later than I wanted to due to traffic on the Westside Highway but everything worked out in the end. I had to quickly charge my camera battery at home since I got accepted for a photo pass last minute. Thanks to Brady for the pass and ticket! I managed to get decent seats in the back, which I just love to sit in when I attend shows at Nokia Theatre.
The opening act was Griffin House, a singer-songwriter from Ohio who's on the Nettwerk label. I never heard of Griffin before but that's the beauty with some opening acts; you get to see some real gems sometimes. Griffin plays folk rock, acoustic rock; sometimes using a harmonica when called for. His look and the way he spoke reminded me of David Duchovny from Californication, just minus all the vulgar-ness of Hank Moody.
He had a few songs written about his grandfather who survived the Battle of the Bulge in World War II. I'm surprised no one was clapping for that but in my mind, I was applauding his Grandfather. The introductions to his songs were sweet (dedicating songs to his wife of 4 months) and funny (stories about his Grandfather telling Griffin he killed Hitler). Griffin was wondering why the crowd was being so nice to him, and he encouraged people to throw bottles at him to make him feel comfortable. At one point someone threw a bra on stage, which he held up proudly and quickly threw it back to the crowd. I think if he kept it, his wife would have had a few words with him on the ride home. I don't know the song titles that he played but he did play a cover of Johnny Cash's "Folsom Prison Blues." Griffin house was definitely a nice surprise!
The Cranberries hit the stage around 9pm and rocked from the start! "How" was the first song of the night, but I wish they started off with something different. "Animal Instincts" was next, which is a catchier song than "How." Right away, I noticed how great a singer & show-person (frontwoman?) Dolores was. She would reach out to fans, make them sing along to the choruses with her, and dancing back and forth from the side of the stages. She rarely stood in the middle of the stage (at least that was my impression). She could have just been trying to avoid the photographers in the pit? But I was impressed with how much Dolores moved around on stage, dancing, bopping, and running back and forth. It seemed like quite the workout. At a few times, fans would give her letters, CDs, whatever they felt like giving to the singer. She would graciously say thank you and continue on singing.
One of my favorite Cranberries songs was up next, and that was "Linger." If you thought the song sounded great on the album, wait until you hear it live! I don't know if the band was just "on" in New York, but they simply sounded amazing & tight. Dolores' vocals were spot on and very impressive. The rest of the band slowly got into things, with Noel Hogan strumming away on his guitar like a madman towards the middle of the set. I wish he did that in the first three songs, because that's when I was taking pictures.
The Cranberries flawlessly went from faster songs ("Free to Decide," "I Can't Be With You" ) to slower pace songs ("When You're Gone," "Ode to my Family"). For some reason, I like sitting down when slower songs are being played for any band, I just feel like I appreciate the songs more that way. At one point in the show, Dolores played a track off her new solo album "No Baggage" called "Switch Off The Moment." The track deals with her insomnia and I liked hearing it live. I was hoping she was going to do some songs from her solo album. Towards the end of the set, they played a few heavier numbers which happened to be some of my favorite Cranberries songs like "Salvation," "Ridiculous Thoughts," and "Zombie." They finished their set with "Zombie."
New York fans were lucky since the band played 5 songs in the encore, unlike 4 in other cities. Dolores came out with the keyboard/guitarist to sing another song off her new solo album called "Lunatic." I'll be honest, this was my least favorite song played that night but the crowd seemed to appreciate it. The rest of the group came back to perform "Empty" and then Dolores' single "the Journey." I'm glad she played "the Journey;" that song is my favorite off "No Baggage." The extra song that fans got to hear was "Promises." The final song of the evening was of course "Dreams." Next to "Linger," that was my favorite song of the night. Although, the band sounded great during "Zombie" and "Salvation." Overall, glad to see the Cranberries are back and I'm hoping they start writing some new material soon. I highly recommend checking them out if they are playing in your neck of the woods.