The Pogues @ Brixton Academy, London UK
Live Reviews | Jan 1st, 2007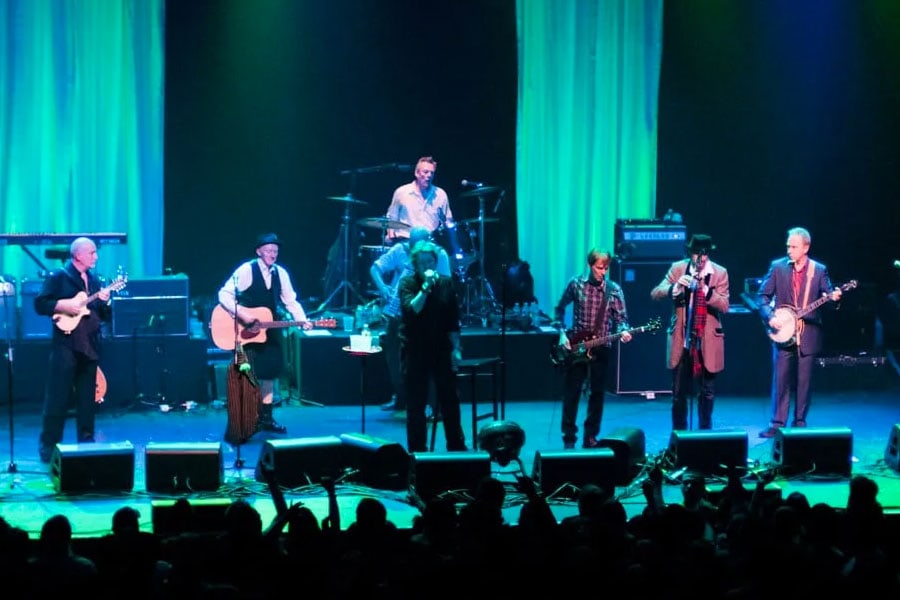 Photo by Bryan Kremkau
Opening Bands: Larrikin Love
Band Links: link
It was the last day of my UK trip, and what a way to end such a trip but with a Pogues concert! There was bound to be some kind of drama with seeing four concerts over in London.

Unfortunately, it had to happen for the Pogues concert. All the drama happened BEFORE I even left my hotel room. An hour or two before the concert, I woke up from a power nap and my twin brother realize he lost the Pogues tickets. We tried to stay calm about things but after tearing our luggage and room apart, we came up with no tickets. At first we thought they might have been stolen or just put somewhere else where they weren't originally. Matt then realized that he cleaned out some old tickets & envelopes in his luggage, and ended up throwing the fucking tickets out! It wouldn't do any good to look through the trash since he threw stuff out in Edinburgh. So Matt was yelling and getting stressed out since he threw out the tickets. We all had a sickening feeling in our stomachs. I had a photo pass to the concert but wasn't sure that would get me into the club. At this point, it was worth a shot to see if I could get in the venue with just that.
In one last effort, I emailed Phil Chevron of the Pogues and told him what happened. I figured he was already at the venue, doing a sound check or something. I told Matt and his fiance Michelle to check my email to see if Phil writes back. So I ended up venturing down to Brixton alone, hoping I could get in with just my photo pass. I waited by the stage door/guest list spot for over an hour, and finally got into the club with just the photo pass. If it was another club, they would have given me shit for not having a ticket on me.
So I waited around until the opening band came on, which was Larrikin Love. I only just heard about the band before I saw them opened for the Pogues, and I liked their one single "Happy As Annie." It was sort of a bluegrass, folkie ska song and really catchy too. So the band took the stage and opened with "Six Queens," which is a good song to open their set with. There was a cello player on stage, as well as a violin player and trombone player. Every once and awhile those members came back on stage to perform when the band needed those instruments. They played "Happy As Annie" when I was in the photo pit, so I was taking pictures and singing along. After that song, I wasn't really into their music. Their songs were kind of bland to me. I didn't really know the other songs but didn't really like what I heard anyway.
As I walked out of the photo pit, I did a double take because I saw Matt & Michelle standing there waving at me. I asked them how the hell did they get in, and they said Phil Chevron of the Pogues wrote and called in tickets for us. But they went to the stage door to get on the list and there names weren't on there. But my brother did some name dropping, and argued his way into club. I was just happy that they managed to get in, and lucky we were even there. Larrikin Love got off the stage and DJ Scratchy played more eclectic styles of music. I'm not sure the rest of the crowd liked his choice of music but I loved it. One minute he play Gogol Bordello and the next he play some Hank Williams or something like that.
I went down to the photo pit to wait for the Pogues to come on stage. I had a feeling they would come on stage later than the time they were suppose to come on, but I decided to go down there with the rest of the paparazzi and photographers. I was staring at all the cameras these people had and wondered what type of shots these photographers would get with a lens the size of a car. If I could afford those type of line lens and cameras, I could be up there with the top photographers as well. But I can't spend thousands of dollars on camera equipment but I still think I take some pretty damn good photos with my Nikon D70.
ANYWAY, DJ Scratchy announced to the crowd that since they threw beer all over the place, it got on the sound mixer. Which had all the settings for the Pogues mics & instruments, so the show got delayed at least a half hour. Later on, people on the www.pogues.com/forum/ Pogues Forum found out from Phil Chevron that the show was almost canceled because of the beer throwing. The crew frantically used Larrikin Love's mixer and settings to get the show started at a decent time. I think if that happened, there would have been a riot. The crowd was definitely a rowdy bunch this time around so that wouldn't be a surprise if that took place.
So a half hour passed, and the band came out on stage without the intro (The Clash's "Straight To Hell"). Jem Finer and other members were pissed off and commented about the beer throwing. Not exactly sure what they said though.
The Pogues opened up with "Streams of Whiskey" like they always do (or at least lately they do). The photographers were let in the photo pit once "If I Should Fall from Grace with God" came on. The Pogues never want to have photographers in the first song just because it might throw them off or distract them. Plus they never want camera flashes used, which I can understand but it's hard when don't have the top of the line camera, that's fast in low lighting settings. But the band sounded a little rusty the first couple of songs, probably they were adjusting to the new sound mixing levels or just pissed off about the beer throwing. I know I would be livid if some "tosser" threw beer on the mixer. After I took pictures of the band, I went back to where my brother and his fiance were standing. The view wasn't that great so we headed for the back to the bar (not a good idea). I managed to peak thru a few bodies to see most of the band performing. I was just lucky to be there and see one of my favorite bands play. Some of the songs they played in the middle of the set were "Young Ned of the Hill," "A Pair of Brown Eyes," "Boys from the County Hell" and one of my favorites "White City."
The band brought in some old songs to their set this time and it was nice to see the band switch things up a tad. I think the Pogues really got their stuff together when "Kitty" was played. I was never a fan of the song on Red Roses for Me, until now. Hearing songs live really does change your outlook on them. Before "Kitty," they seemed to be rushing their songs a bit and sounded flat at times. But regardless of that, I was still enjoying their show tremendously. Seeing Shane and the rest of the band on stage again was a real treat for me. The rest of the members did a great job playing and singing to their songs. Spider did "Tuesday Morning," Terry Woods did "Young Ned," and eventually Phil Chevron sang "Thousands Are Sailing." I thought "Thousands Are Sailing" was the best song of the night and that's not just because i'm kissing up to Phil for hooking me up with passes either! "Dirty Old Town" still continues to be a crowd favorite and the crowd starts to sing the song before Shane can even open his mouth. They finished the set with "Bottle of Smoke" and "Sickbed of "Cuchulainn." The Pogues came back to do 2 encores, like they have done in the past. "Sally MacLennane" came on and got myself & the crowd dancing in their spots. "Rainy Night in Soho" was played next and done really well! Some of the members of Larrikin Love came on stage to help out as well. "Irish Rover" finished the first encore off, but the crowd didn't go anywhere because they wanted to hear "Fairytale of NY." Shane came out for the second encore and went into Auld Triangle and I was cracking up. I was cracking up because Shane was dropping F bombs every other word, and I just had to laugh at that. Fairytale was played next and Ella Finer, daughter of Jem, came out to sing with Shane. Such a beautiful song to hear live, and it almost makes me cry each time I hear it. The final song of the night was "Fiesta," but I had to catch the Tube train back to the hotel or I would have been stuck in Brixton. Everyone from the show rushed to the Tube station before the station closed for the night.
The night before, the guys were in Manchester and heard it wasn't the best gig they have done. The band got news that Tom McManamon, the Popes banjo player and a good friend of the band, had passed away. So the band members were kind of upset over that and I don't blame them. But the Pogues came back to London after that and started off rough, but finished the set strong. If you ever get the chance to see the Pogues live, do so! And a mighty thanks to Phil Chevron for hooking us up with the passes and tickets!
Bottom Line: Don't throw out your concert tickets..EVER!
Favorite Songs: A Pair of Brown Eyes, Kitty, Thousands Are Sailing, Sally Maclennane, Dirty Old Town, Fairytale of NY
Overall Rating: