The Porkers @ Knitting Factory, Brooklyn, NY
Live Reviews | Jan 2nd, 2017
Date: December 30th 2016
Opening Bands: The Pandemics, Rudie Crew, Skarroñeros
Night two of back to back ska/reggae shows at Knitting Factory. This time it was The Porkers from Australia! About 2 years ago, Pete of the Porkers came over and played a show with the Pandemics at Characters. It was fun time but having the full band over was even better!

Sadly, this show didn't sell out but it was at least respectable for a ska show around New Year's Eve. It was supposed to be an earlier show and get over by 10:30 but that didn't happen. I was hoping that would be the case since it took me over 2 hours to get home the previous night because of the stupid PATH train.
The opening band, Skarroñeros, were running late it seemed or Knitting Factory just decided to push things back a little. There weren't that many people there to start and I honestly didn't even know they were starting or still sound checking when they started. I've seen the band perform at Characters before and they are okay. It was a little loud and I forgot tissues for my ears. I was trying to shove napkins and toilet paper in my ears all night but wasn't working that great. Definitely had a ringing in my ears the next morning. I need to invest in custom made ear plugs because the foam ones don't work for my ears.
The Rudie Crew were up next and I haven't seen them since they performed with Pilfers for their record release party in Brooklyn. Sadly that was with late Roy Radics, who passed away in March of 2016. They have a new vocalist now in Juggla, who sometimes appears with Rude Boy George. I'm not sure what was played but I like the Rudie Crew's dancehall songs when Juggla was singing. Sometimes they jam out a little and he's not singing but I prefer the singing/less jammy instrumental stuff. But for the most part, they sounded great!
The Pandemics played next and I've seen them quite a lot over the years at Characters. The last time they backed Pete Porker and did a good job with the songs. They have a lot of energy and get people to dance that's for sure. I guess it's the type of ska music people wanted to hear that night, bouncy "horny" ska. Later on in the set, Bigfil from The Porkers came on stage and played a song with the band. That was cool to see. After them, it was time to see The Porkers play a bunch of songs I've been listening to for 20 years.
The Porkers have returned to New York City as a full band, the first time since 1998! The last time they played here, it was at The Wetlands and they opened for Laurel Aitken. Well considering it's only Pete and Bigfil as the original members, the last time Bigfil played with the Porkers in NYC was 1998. As much as it was cool to see Pete singing with the Pandemics 2 years ago, can't beat the full band! Although, Chris Malone was playing trombone for them again like he did the night before at the Bosstones' Hometown Throwdown in Boston. The crowd was already pretty thin for this show, some people left before The Porkers came on stage for some reason. Kind of messed up if you ask me. Must have been for the openers or they were the openers. Anyone who wasn't there, they missed a great set!
They started things off with "Goin' Off" and then went into "Deep Breath" from my favorite album Hot Dog Daiquiri. Pete was in fine form, going crazy on stage back and forth. Plus he was grabbing friends in the crowd and humping them in the face and caressing their faces. The setlist was pretty damn good for The Porkers. Great mixture of classics, some old ones and even 2 new songs as well! Songs that stuck out for me include "Enter Porkman," "Skankin' Carpark Blues," "Big Backyard," "Chemical Imbalance," and "Swinging Like Tiger Woods." Hearing 2 new songs was pretty cool too and can't wait to hear the new album!
I still would have liked to have heard "Designated Drinker," "Perfect Teeth" and "Can't Get Laid in the USA." Towards the end of the set, the band played "Schooners of the Black," which I knew was coming so I'm glad I went into the back. Pete started dumping beer all over himself and the crowd. Great for photos, but if it's from afar. Glad I didn't get soaked in beer or more importantly, glad my camera didn't.
After that song, the band announced they weren't doing a phony walk-off and played "Alcohol" as their encore. That song is the first song I heard from the Porkers many years ago, and it's probably still one of their most popular tunes. I guess a lot of people love alcohol so it's understandable. It was awesome to see the Porkers again and can't wait to hear the new album for their 30th anniversary.
All the photos will show up on SkaPunkPhotos.com at some point this week, here are some photos I liked from the show:
Skarroñeros
The Rudie Crew
The Pandemics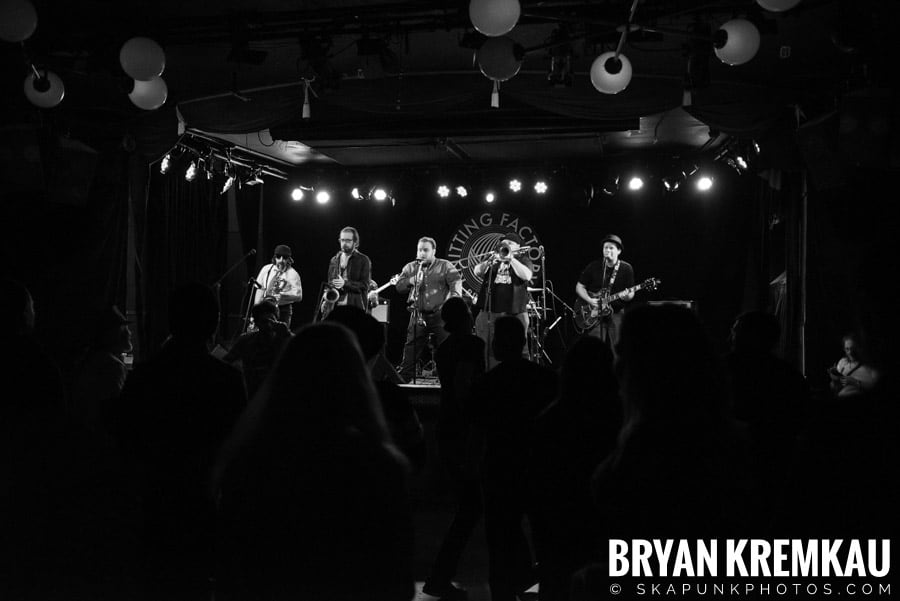 The Porkers