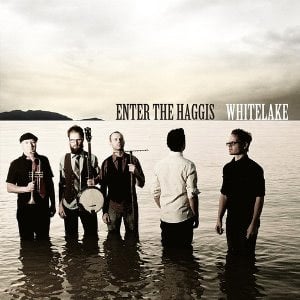 Record Label: Firebrand Entertainment
Genre: Folk Rock
Band Link: www.enterthehaggis.com
Buy on Amazon.com
Enter The Haggis is a rootsy folk rock band from Toronto, Canada. It's been awhile since listening to these guys but one thing I noticed is how much their sound has grown. They certainly are standing out from other Celtic/Folk bands. They aren't just some Celtic band anymore and they are branching out into other styles as well. In a way, they seem to be following a similar path to that of Carbon Leaf. Started out Celtic and then going more into a Folk rock/Americana sound.

Based on the press release, Enter The Haggis funded this album from fans' donations. More and more bands are doing this and think it's a great idea, well that is, if you have a dedicated fanbase. When I listen to this new album, genres that come to mind include folk rock, Americana, and roots rock. There's a few whistles or fiddles on some tracks but it's used more as a background then being in the foreground. If that makes any sense…
The opening track "Headlights I & II" starts off slow but picks up towards the end. I like when it picked up. "Devil's Son" was a nice twangy ditty and one of my favorites on the album. "Follow" stood out for me because the guitar playing reminds me of Jethro Tull. It's hard to describe but it just reminded me of Tull.
Enter The Haggis have changed their sound slightly from their earlier releases but I think their sound has improved. Fans of the group should give this album a shot; I think they will like it.
Bottom Line: A different Enter The Haggis album but still a very good one.
Notable Tracks: Headlights I & II, Devil's Son, Pseumoustophy, Follow
Overall Rating: