Swingin' Utters – "Here, Under Protest"
Album Reviews | Jun 9th, 2011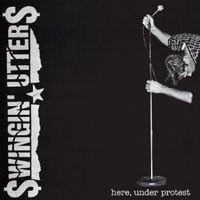 Record Label: Fat Wreck Chords
Genre: Punk Rock
Band Link: www.swinginutters.com
Buy on Amazon.com
8 years!? That's how long we had to wait for a new Swingin' Utters album! That's a long ass time but it was worth the wait! The band have been keeping busy with side projects like Me First and the Gimme Gimmes, Re-Volts, and Filthy Thieving Bastards. I'm just happy they finally decide to record under the Swingin' Utters name.

Some may say that their sound has a less punkier sound now but I don't really agree with that. They are still one of the best punk bands recording today (when they fell like it); their sound is just more fine-tuned and other styles creep into their songs now. I'm fine with that, because I like other music besides just straight-up punk rock. There is one track "Scary Brittle Frame" that sounds like something in the Filthy Thieving Bastards territory. It's nice hearing Jack singing a track ("Effortless Amnesiac") as well, which ends the album.
We got a taste of the new material when they released a three song EP last year. That EP contained songs "Brand New Lungs," "Lepers, Thieves And Whores" and "Forward To Fun" (which isn't included here). The first two are punk stand-outs on this album as well. Personally, I think their less punkier song "Kick It Over" is one of the best songs they have done in the last few albums. If they wrote a song that was ever going to be on the radio, that would be it. Really catchy and makes you want to listen to it over and over. In fact, this entire album you can listen to over and over since it's short. There are 14 tracks in all and if you don't pay attention, the album will be over.
Bottom Line: The wait has been worth it but let's hope we get another new album in lesser time next time!
Notable Tracks: Brand New Lungs, Kick It Over, Time On My Own, Lepers Thieves and Whores, Effortless Amnesiac
Overall Rating: