Marley and Me (Single-Disc Edition)
DVD Reviews | Mar 23rd, 2009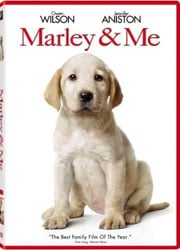 Starring: Jennifer Aniston, Owen Wilson, Alan Arkin, Eric Dane
Written By: Don Roos, Scott Frank
Directed By: David Frankel
Studio: 20th Century Fox
Buy On Amazon.com
Marley and Me is based on the New York Times bestselling autobiographical novel from John Grogan. The movie will make you go "aww," it will make you laugh and it most likely will make you cry…a lot!

The film follows the life of John and Jenny Grogan, two reporters who move to south Florida to work at competing newspapers. John gets stuck writing boring, short pieces for the paper and Jenny's work gets seen on the front pages of her newspaper. John's friend and co-worker tells him to get a dog to see if they are ready for parenting. John let's Jen pick out a dog for her birthday, and they pick a "clearance" dog. While riding in the car, listening to Bob Marley, John picks out Marley for the dog's name. Marley ends up being a rowdy, uncontrollable Labrador retriever who gets banned from obedience school. Meanwhile, John gets offered a column for the paper, but is reluctant to do it since he wants to be a news reporter. He decides to write a lot about Marley, who is quite the handful. He also writes about starting a new family and raising their children but mostly the column is about Marley. The column becomes a hit with the local community. When John hits 40, he gets an offer to report for the Philadelphia Inquirer and the family and Marley move outside in Philadelphia. The family goes through hardship and tough times, that include their children and their dog. Those events only makes the family grow closer together.
There will be spoilers in this review so don't read any further if you don't care. Marley and Me is one of the most realistic looks at raising a dog, and a family. I liked the movie a lot, but had a tough time watching the last half hour. I knew what was going to happen before the movie started, which might have made it even worse for me. I was just anticipating what was going to happen, and when that moment came; I freakin' lost it! I cry from time to time in movies and not afraid to admit that. But I never cried as much as I did for any movie before Marley & Me. At one point in the movie, the kids say goodbye to Marley and give him hugs. At that particular scene, it triggered 30 years of memories of when I lost my dogs. I did the same thing as the kids in the movie, give the dog a hug when I knew it was going to be the last time I'd be seeing them. So when I saw that scene, I couldn't hold it back any longer. Anyone who's had a dog will probably cry during the last half hour at some point. If you don't cry, well then you must have a heart of stone then or you're not human. The last half hour was torture for me because it just drags on with the dog, and all the problems it's having. It's just never ending it seems, which resulted in me crying even more. Whatever, I'm a pussy but at least I'm man enough to admit it.
As far as the other stuff is concerned, I thought the movie itself was done well. Some things were typical and generic, but I thought it was a realistic look at someone's life. Marley and Me is probably one of the most realistic dogs movie out there. The performances of Owen Wilson, Jennifer Aniston and Alan Arkin were excellent. Wilson and Aniston's chemistry was very strong. I would like to see them in more movies together. You get the sense that their characters have been with each other for awhile. There aren't that many sub-characters but Alan Arkin and Eric Cane were decent in their roles. Kathleen Turner makes a cameo as a dog trainer. Remember when she used to be beautiful… now she looks like Arnold Schwarzenegger. The film is at times very choppy, and tries to fit everything into 2 hours. There's one scene where Owen Wilson's doing a narration of what's going on with his character's life. I don't think he took a breath in 5 minutes. It's a little overwhelming; it felt like getting a narration from the Micro Machine guy. That's a reference to the 80's kids out there!
If you can hold off on crying for movies, I'd recommend Marley and Me. Or if you don't think you can, then just turn off the movie when there's only a half hour to ago and read what happens online. The movie is a great film, but I don't think kids should see this if they can't handle seeing a dog dying. Look at me, I'm 30 and I couldn't even handle it! There are other things in the film that happen that don't make this a family film as well. So maybe watch the film first and decide if kids should see this? Since I only had the single disc to review, I didn't get around to watching the extras. If you can, I'd get this movie on Blu-Ray or get the 2 disc collection. And be sure to stock up on lots of tissues!
Video:
Widescreen 1.85:1 Color
Audio:
ENGLISH: Dolby Digital 5.1
SPANISH: Dolby Digital 5.1
FRENCH: Dolby Digital 5.1
Subtitles:
English, Spanish, French
Bottom Line: Get the tissues ready
Rating: NR
Running Time: 110mins
Extras Rating:
Overall Rating: