Beres Hammond & Luciano @ Hammerstein Ballroom, NYC
Live Reviews | Aug 4th, 2013
Date: August 2nd 2013
Opening Acts: Derrick Barnett and Statement Band, Harmony House Band
I've been listening to both Beres Hammond and Luciano for many years now but never had the chance to see them live until last night. The popular reggae singers packed Hammerstein Ballroom on a Friday night and it was an extremely enjoyable show!

The reggae shows I've attended in the past, I knew what to expect going in. Thankfully I wasn't too tired and stayed for the majority of the show. After getting my pass sorted out, I sat in the photo pit the entire show which is extremely rare for me. I'm thankful for that since the place was sold out or close to it.
To get things started, there was a DJ playing a lot of popular reggae tunes from over the years from Buju, Barrington, Sanchez and of course Bob. Many of them I knew and I was dancing & singing along in my spot, while waiting for the show to start. I don't usually attend shows with DJs to pump up the crowd but these guys were getting the job done.
Derrick Barnett and Statement Band started things off for a song or two, and ended up backing one female singer and then Luciano later on. I don't remember the female singer who sang for a couple of songs, and can't seem to find it online either so sorry about that. She sang a few songs with DB and the Statement Band and then Luciano took the stage.
Luciano slowly made his way on stage, singing a slower tune and strolling across the stage. Then BOOM, "The Messenger" was played and it seemed like a different singer took over and he was jumping and moving fast on stage. I loved it because I just wasn't expecting that. It also made for some great photos because I didn't expect to get so many jump shots at a reggae show. I also didn't expect him to do cart-wheels on stage either, and I was mad at myself for not capturing that. Luciano ended up playing for an hour and sang songs like "Sweep Over My Soul" and "Knocking on Heaven's Door." Terrific stage presence and frontman, I really hope I get the chance to see Luciano again.
After Luciano, I hung out in the photo pit since I wasn't told to leave and listened to the DJ play a bunch of reggae hits again to pump up the crowd. Not sure how long he DJed for but he certainly made it fun to wait for Beres Hammond to take the stage.
The Harmony House band took the stage and played an intro and then the crowd erupted in applause when Beres Hammond took the stage. Another reggae legend with such stage presence and class. Beres has such a soulful singing voice, I'm surprised no woman threw their panties on stage haha. I'm not sure what songs he played but the ones I do remember are some of hits like "Putting up Resistance," and "Double Trouble." The Harmony House band were on fire as well, and I enjoyed watching them play as well. The guitarist had awesome rock poses and he kind of looked like soccer star Thierry Henry's twin brother with longer hair. Each member came up front to rock a solo like the guitarist, bassist, sax, and drummer. The percussionist solo was fun to watch. At one point during the show, I looked over in the pit and saw actor Leon (from Cool Runnings, Oz) taking pictures with his phone. I smiled and just kept going about my business. What am I going to say, um hey, you're that guy from Cool Runnings? Beres Hammond was very friendly towards the crowd, photographers and enjoying little moments with them up front by sitting on the amps. Shaking hands, laughing at what people were shouting back at him.
Towards the end of the show, Shaggy came out and the crowd loved that, as did I. I believe they sang their new song "Fight This Feeling." Shaggy is another artist I'd love to see a full set one of these days. After that awesome moment, I decided to pack things up and head home since I was beat. I love reggae but the concerts go on either too late or way past my bedtime haha. I ended up sleeping in and taking a long nap yesterday. I don't always get to see reggae shows but every time I do, I love it! I can cross off seeing & shooting a show with Beres Hammond and Luciano off my list. If you ever get the chance to see these reggae legends, make sure you just suck it up and go see them perform!
Photos from the show, all the photos will be posted at SkaPunkPhotos.com soon.
Derrick Barnett and Statement Band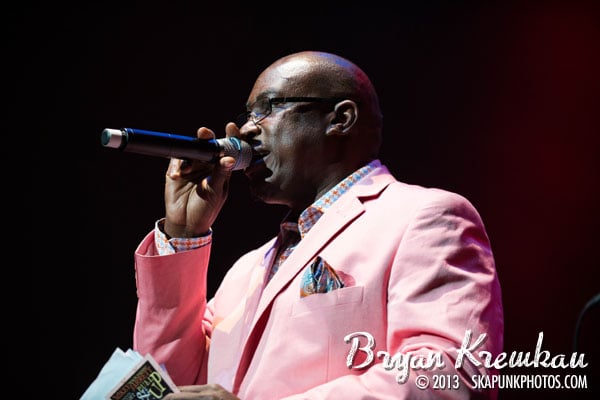 Luciano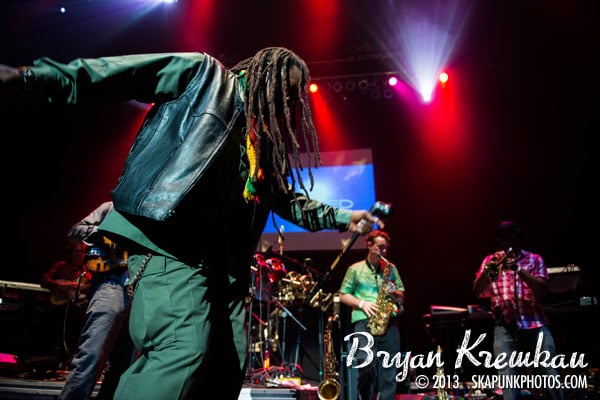 Beres Hammond