Reel Big Fish / Less Than Jake @ Best Buy Theater, NYC
Live Reviews | Jun 19th, 2015
Date: June 16th 2015
Opening Band: Ballyhoo!
Less than Jake and Reel Big Fish were originally supposed to play Best Buy Theater back in January or February. The show was prematurely canceled for the Blizzard That Never Came and this was rescheduled to June 16th. Authority Zero couldn't make it this tour but Ballyhoo! did, so everything was okay. Great lineup and great show!

It's been over a month since going to a show so I was looking forward to this one. Life has been shitty to say the least so I needed this. Ballyhoo! opened and things were kind of shaky in the beginning, but not from their doing. The microphones kept popping for every song, that eventually they had to be replaced. It was hard to hear Howi sing at times but once that happened, their set was a lot better. I think the mics were distracting so the band were just going through the motions. It was great to hear their stuff again and it was only the second time seeing them live. They played songs like "Battle Cry," "She Wants To Destroy Me," "Morning Sunlight" and the crowd favorite "Walk Away." It was awesome to hear "Walk Away!" If you haven't see Ballyhoo before and heading to this tour, get there early to check them out!
Everytime I see Less Than Jake, I ask myself why the hell I don't see them as much as I should. Definitely one of my favorite bands to see live and have been seeing them perform since 96/97. I was kind of bummed to see them as well because my Dad passed away last month from pancreatic cancer (why life has sucked recently) and he was a LTJ fan. He became a fan after he took us to see them for the first time. It was an in-store performance at the legendary Vintage Vinyl in NJ. We met the band in the parking lot and Chris gave us free shirts. Another time that I remember is when my brother and I had my Dad take us to see the band in Orlando and alter our Disney vacation plans. It was cool to see the band in their home state. My Dad was just awesome and took us to a lot of shows, even after college! I'm glad I got to spend time with him at shows and bond over that. But back to the LTJ set….
The band started things off with "Look What Happened," which excited a lot of people in the crowd. For the most part, this was an older material set and I think everyone was happy with that. The only new songs they played were "Good Enough" and "Give Me Something To Believe In." I would have liked to have heard "Do The Math" from the new album but there's always next time. Like other LTJ shows in the past, there were toilet paper shooters, confetti, the Less Than Jake icon guy made an appearance, big bouncy balls and it wouldn't be a Less Than Jake set without some man ass I suppose. A guy named Steve got on stage and got mooned by a girl he was trying to sway into making out with him on stage. It didn't pan out like he hoped and the girl pulled his pants down in front of the sold out crowd. Some of the songs that stood out to me: "The Ghosts of You and Me," "How's My Driving, Doug Hastings," "Overrated (Everything Is)," "Johnny Quest," and "The Science of Selling Yourself Short."
During the encore, Chris and JR came out to do "The Rest of My Life," which I happy about since it's one of my favorite LTJ songs. I'm not sure if this was played in the encore or not, but "Great American Sharpshooter" was played and I loved it. Such a catchy chorus. "All My Best Friends Are Metalheads" was last song for their set and it was just an excellent set from LTJ! After all these years, they are still one of the best live bands in any genre that I've seen.
Another fun band, Reel Big Fish, finished up the show with a collection of new tunes, some old tunes and a quick random cover of The Offspring. I've seen RBF more than LTJ but that's just Reel Big Fish tour New York more often. Reel Big Fish opened up with "Everyone Else Is An Asshole," which seemed like the song they usually open with or play these days. Unlike Less Than Jake's set, their set was a lot of newer material. I prefer the old but whatever, still a good time.
It seems like everytime I see the band, they have a new member. Aaron is still the only original member but for the most part, the lineup has remained consistent for a few years now, minus the drummer. Trombone player Billy Kottage and me have a fun exchange when I'm in the photo pit all the time, he's always flipping me off. He kept the streak alive and flipped me off again. I captured another funny moment of him, positioning himself behind Johnny Christmas bending over and we both looked at each other and laughed because he knew I had the shot.
Notable songs played during the set included "The Kids Don't Like It," "Trendy," "Don't Start A Band," "I Know You Too Well to Like You Anymore," and "She Has A Girlfriend Now." I had to take off early but as I was leaving, the band played a quick random cover of Offspring "Come Out and Play" and then went into "Sellout." From what I heard, they came back to do 3 songs. All in all, a fun show and a killer lineup! Just what I needed after a shitty few months.
Check out the photos from the night:
All the photos will be posted on SkaPunkPhotos.com soon!
Ballyhoo!
Less than Jake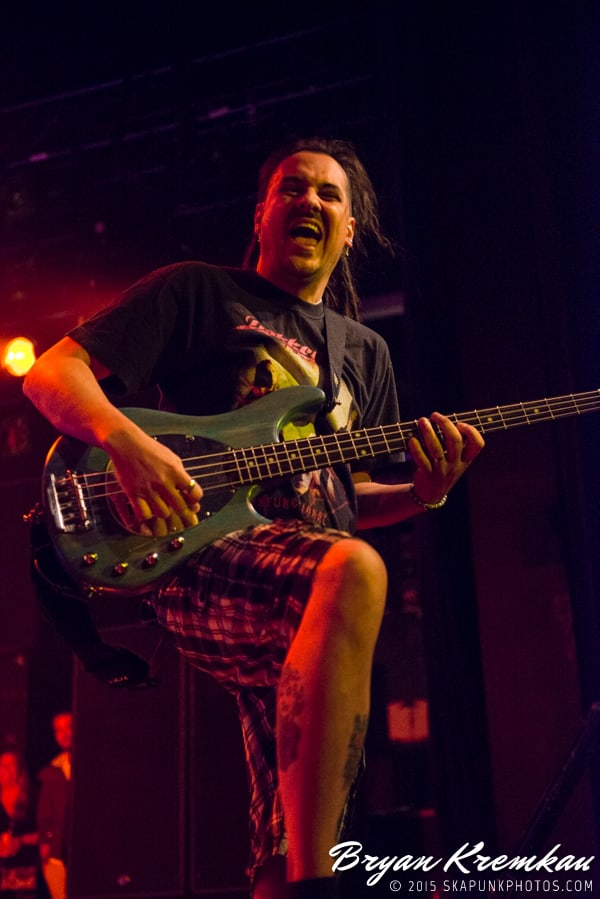 Reel Big Fish