Steve 'N' Seagulls @ The Rex Theater Pittsburgh, PA
Live Reviews | Sep 17th, 2018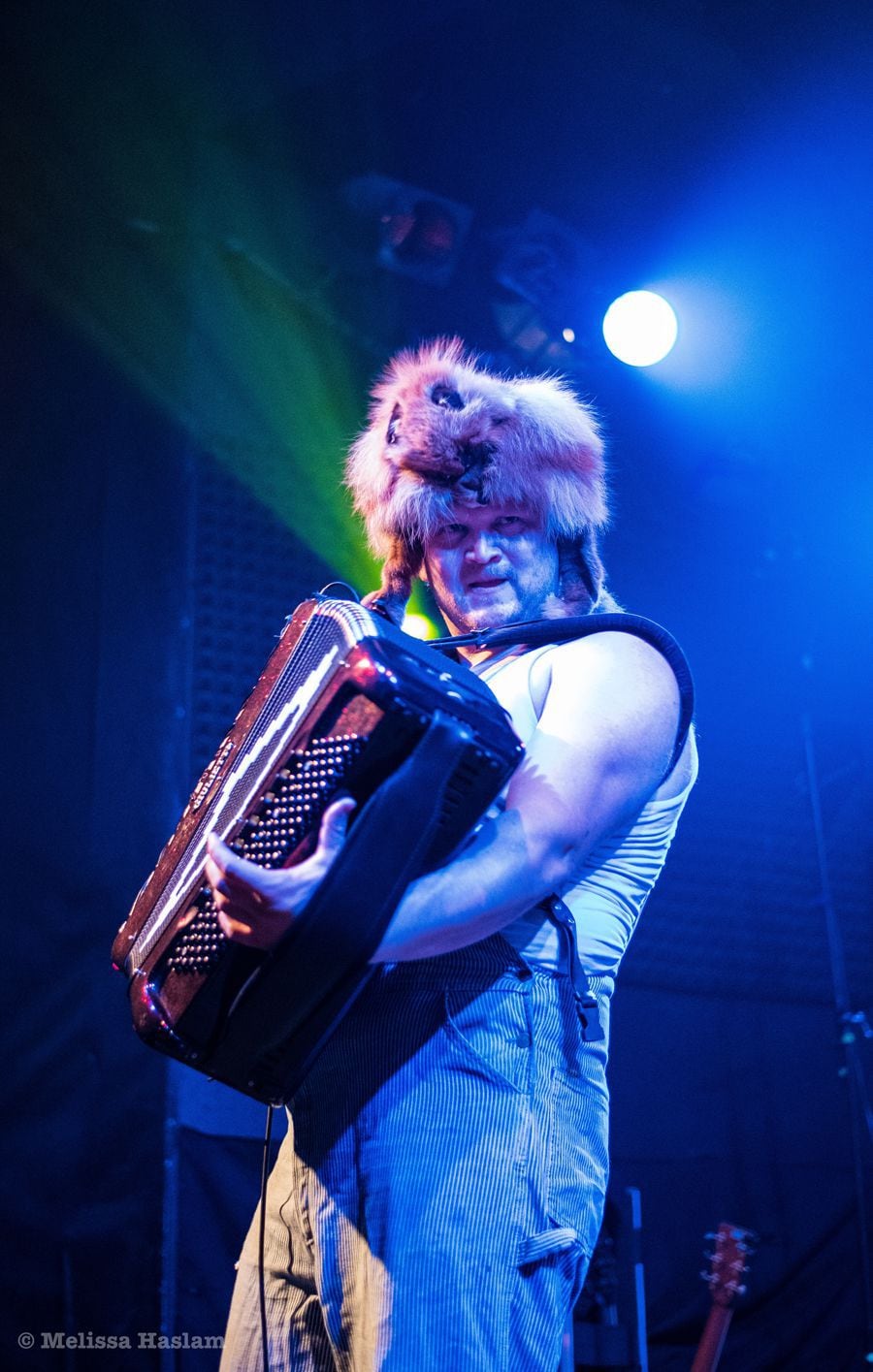 Date: August 30, 2018
Opening Act: ClusterPuck
All Photos Courtesy of Melissa Haslam
Blending bluegrass, country and cowpunk Steve 'N' Seagulls puts their unique sound to the tune of cover songs that range from AC/DC, Lenny Kravitz, ZZ Top, Pearl Jam, the Offspring and Iron Maiden just to name a few. Far from their homeland of Finland, their first stop on their current tour of the U.S. is right here in Western PA at the Rex Theater along with opening act ClusterPuck.

Kicking off the hootenanny antics for the evening was St. Louis's own ClusterPuck playing their own blend of bluegrass country rock. ClusterPuck is a three-piece that consists of a couple of country boys and a dude that looks like he plays for UB40. Initially looks aside, they had a great sound to them that consisted of an acoustic guitar, electric bass and guitar as well as two vocalists that alternated songs. There was some slower modern country songs mixed in with some faster rock-inspired country tracks as well as some classic bluegrass country boot-stompin' songs mixed in. While not my usual cup of tea, they had some well-written tunes but to the backdrop of a great live performance.
Closing up the short bill for the evening, the headliner's hit the stage in all of their oddly weird glory. Not only do they sound the part of chaw-spittin' Southeastern 'Mericans but they definitely looked the part as well. Dressed in big overalls, flowing gypsy clothes and cutoff jeans and fox hats, the good ole boys in Steve 'N' Seagulls grabbed their plethora of instruments ranging from accordions, banjos, standup bass and various guitars and mandolins and kicked off their set.
First up was the band's cover of Gary Moore's "Over The Hills And Far Away". Slowly the crowd grew as they crept forward to the odd mix of classic rock set to the tune of bluegrass guitar and banjo. Adding more fuel to the unique fire, the second track on the setlist went full country metal with a cover of Iron Maiden's "The Trooper" that really got a pop from the audience. The next few tracks covered a few decades of music as the band tore through some knee stomping renditions of "Are You Gonna Go My Way" by Lenny Kravitz, "Alive" by Pearl Jam and "You Shook Me All Night Long" by AC/DC.
Now that the crowd got their bearing and realized the unique show that they were part of and began to recognize more and more of the songs, people began to sing along, cheer and overall just have a good time enjoying this unique, quirky, talented band from across the pond.
As Steve 'N' Seagulls' ripped through a few more of their hillbilly-fied covers ranging from classic rock icons Led Zeppelin to modern rock torch-bearers in the Foo Fighters it lead up to my favorite moments of the night. First up was the cover that was anxiously awaiting all evening and ended up on the setlist…the band's cover of the Offspring's "Self Esteem". Banjo-driven and full of as much teen angst as a half dozen grown men in bib overalls can muster up, the song was even more amazing in person as on their album. Following up that music moment was a rip-roaring rendition of Van Halen's "Panama" that really got people hootin' and hollerin'.
By far my favorite moment and song of the evening was the unexpectedly eerie and haunting live version of "Nothing Else Matters" by Metallica. It was such a goosebump-inducing moment that easily justifies the joys of live music. The crowd was quiet at first as they began to realize the band's version of the song and slowly the ambience of the music began to take over as people were slowly reciting the lines in tune with the band.
Steve 'N' Seagulls finished off their setlist with a few more songs and closed thing down with an encore of "Cemetery Gates" by the one and only Pantera.
With that said, Steve 'N' Seagulls live show was one for the books. Not only were members of the band adept at multiple instruments such as the larger gentleman with the fox hat who was playing the accordion, flute and keyboard or the banjo player who would sing, play banjo and play acoustic guitar but they were always smiling and having a good time and it was infectious. The more fun the band was having, the more fun the crowd would have and this feeling bounced back and forth throughout the show. ClusterPuck set the mood with their original country rock tunes and Steve 'N' Seagulls brought the house down with their fun and unique renditions of well-known rock and metal songs. For someone who has seen a lot of live music and experienced many a musical oddity, Steve 'N' Seagulls were one for the ages in my book.
Whether you are a fan of bluegrass and country or not, it really shouldn't matter when considering how fun and entertaining Steve 'N' Seagulls are live. If you know the songs that they cover, which you undoubtedly will unless you live under a rock, check these good ole boys out if they ever come to your neck of the woods.
ClusterPuck
Steve 'N' Seagulls