The Fat Wrecked for 25 Years @ Stone Pony Summer Stage, Asbury Park, NJ
Live Reviews | Aug 17th, 2015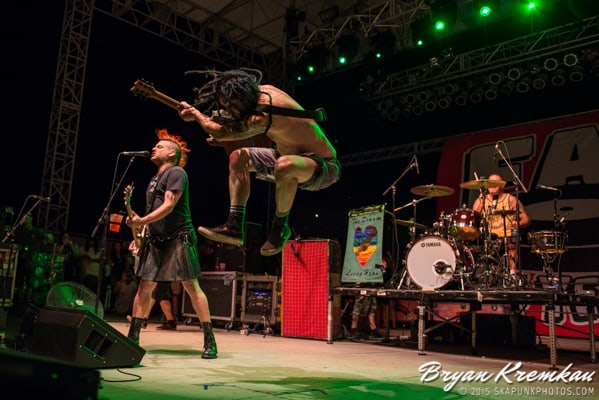 Date: August 15th, 2015
Bands: NOFX, Lagwagon, Strung Out, Swingin Utters, The Flatliners, Masked Intruder, Bad Cop Bad Cop, toyGuitar
Fat Wreck turned 25 this year, or as Fat Mike sort of said on stage, it's really 24 years and we lied. 24 just doesn't sound cool enough. The outside concert tour wasn't playing in NYC, although NOFX did have a show there the night before and screened their second season of Backstage Passport. It's been awhile since being back at Asbury Park but when there's 8 punk bands playing practically right on the beach, you have to go! It's like Vans Warped Tour without all the shitty bands and annoying kids wearing free hug t-shirts.

I took a half day off work and took the ride down to Asbury Park. Sat in a little bit of stop and go traffic but I got there when doors opened. The last time I've been to Asbury Park was probably at a Pilfers show in 1999 at some skate park. Things have changed since then, since it used to look like Beirut. The gentrification is in full swing, at least on the waterfront area. It was a hot one but could have been a lot worse. There was a nice breeze from the ocean so that helped.
After wandering around for an hour with no where to go, toyGuitar came on first. The band features Jack Dalrymple from One Man Army and Swingin Utters. It was the first time seeing Jack's new band and I liked what I heard. They played songs from their new release In This Mess. The crowd was still coming in for the first few bands but the band still gave it their all and did a great job. It's not full on punk rock like that Fat Wreck sound but more like garage rock. Jack was cracking jokes about people not wanting to see them. From what I can remember, they played songs like "When It's Over," "Human Hyenas," and "I'm in my Head." It's unfortunate people didn't arrive earlier to see toyGuitar but 3pm start time for a show, I can see it hard for people to get out of work. Plus, people probably didn't want to sit in the sun for 8 hours.
Bad Cop/Bad Cop were scheduled to play first but they played second this show. The band is an all-female punk band from California, with a special guest appearance on bass from Yellow of Masked Intruder. Bad Cop/Bad Cop is another band I haven't seen live before and liked their stuff. As each band was coming on, each got more and more aggressive with telling the crowd to move closer and dance. Honestly, the first 2 sets, the crowd seemed like they were asleep. I would have been annoyed too. Not sure what songs they played but I'm assuming it was from their album Not Sorry.
The crowd woke up when Masked Intruder came on and more people started to show up. I've seen Masked Intruder once or twice and really love their sound and stage presence. It's like watching a comedy stand-up act in-between songs. They put on these old Brooklyn mobster movie accents and it's hilarious. They have a cop come on stage every show and stand there and flip people off in the crowd. At some point he jumps into the crowd and dances with everybody. It's definitely a good way of getting the crowd moving and enjoying the show. Masked Intruder played songs like "Stick Em Up," "I Don't Wanna Be Alone Tonight," "I Fought the Law," "Crime Spree" and some others from their last 2 albums. Definitely check this band if you haven't already!
It seems The Flatliners have been gaining in popularity lately and a lot of people wanted to check out the Flatliners. I've seen them play twice before, both times with NOFX and always like their set but I just never really listen to them afterwards. Like with other bands, I'm out of the loop and not sure what they played. I guess I should go and listen to their music more often so I have more to say in reviews? I can tell The Flatliners are veering away from punk rock a little and have an overall rock sound. Sort of like what the Gaslight Anthem were doing before they got really soft.
I don't remember the last time I saw the Swingin' Utters but I always want to get out to see them play when I can. But I just haven't been able to see them play for a long time now. They were one of the reasons why I wanted to see the Fat Wreck 25 tour. Let's say they didn't disappoint, even though some of the crowd seemed to be mortified by frontman Johnny Bonnel's performance. Not sure if he was trashed or was just getting into the set. It looked like he just received some bad news prior to the set or something and was just mad. He was screaming (not near the mic), smashing his head with his hands, smacking his face and pounding his head with the mic. He was going over to other members' mics and pounding his face into the mic stands. He did this for the whole set so it's not surprising to see him end up with some bloody scars on his face and forehead. What he was doing, reminded me of what his buddy Spider of the Pogues does on stage which is smash his head with a beer tray. Except those trays are little softer than a mic. Regardless of him being trashed or not, it's punk rock and made for some great photos! Some of the songs they played during the 40 minute set included "Pills and Smoke," "Windspitting Punk," "Kick It Over," "Tell Them Told You So," "The Librarians Are Hiding Something" and "Next in Line." I need to get out to see them headline next time they are in town.
Strung Out are one of those bands that I like their music, I just never listen to them a lot for whatever reason. I've seen them play a bunch of times and each time I vow to listen to them a lot more. Regardless of me not knowing any songs that they played, they put in one hell of a performance. The sun was finally setting during the set so the sun wasn't in everybody's faces. The band was jumping, moving around and they were just a lot more active on stage than majority of the bands that played (besides Masked Intruder and Swingin' Utters). At one point, they played a cover of No Use for a Name's "Soulmate" in honor of Tony Sly. Many bands were paying tribute to Tony that night and it was great to see.
Lagwagon played before NOFX, and their set was around 45-60 minutes I think. I really can't remember if I ever saw them live before or not. Maybe at the Warped Tour? This might have been the first time. I've never really been a fan of the band; I appreciate their music but never got into their stuff. I like some songs, and dug their set the other night but I probably won't go out and listen to them all that much. They did a cover of Van Morrison's "Brown Eye Girl" and then later on they played No Use For A Name's "Exit." You can see Joey still visibly upset over his friend's passing. He was pretty emotional afterwards and seeing that moment made me appreciate Lagwagon a lot more. Having just lost my Dad to cancer back in Memorial Day weekend, it's just something that takes years getting over so I understand completely with Joey getting upset after singing the NUFAN song.
Finally, after 7 bands, NOFX came on and at this point, it was nighttime and the Summerstage area was packed with people. Fat Mike came out in a skirt and when someone said nice kilt, he said it's a skirt asshole! Or something along those lines. The previous shows he was calling out some hipster who had a beard and tie dye shirt on. That was making the rounds on news site; it must have been a slow news day. This time he was making fun of Mexicans for holding up a Mexican flag but I'm sure no one will whine over that. Anyway, like always, NOFX talked just as much as playing music it seemed.
They opened with "60%" and "Dinosaurs Will Die." Fat Mike claimed they were done making fun of Christians and Jews, it was time to make fun of muslims with their song "72 Hookers." Towards the middle of the set, they played The Longest Line EP in full, which was released in 1991. Hence, why Fat Mike said the whole 25 anniversary thing is bogus. Later on in the set, they finished things up with "Bob," "Linoleum," and "Seeing Double and the Triple Rock."
The last song of the set, I thought it would be great to head home early and hear some of the music as I was walking to the nearby parking lot. My heart sank as soon as I got to my car because I had a flat tire (found out 2 days later it was a nail..typical). I had to call AAA, and listened to the rest of the encore from the parking lot. Once AAA came, it took us forever to get the tire off and someone from the show stopped by to help us take it off so that was nice. After 8 hours of punk rock, coming back to a flat tire wasn't fun. I never drive to shows anymore and the one show I do, I get a flat tire. Go figure.
Here are my favorite photos from the show, there's a lot but there will be even more on SkaPunkPhotos.com this week:
toyGuitar
Bad Cop Bad Cop
Masked Intruder
The Flatliners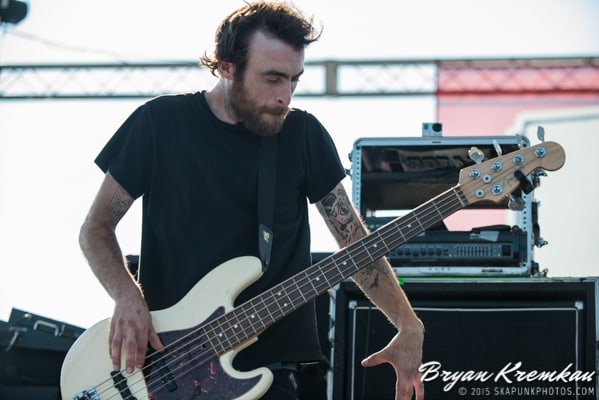 Swingin Utters
Strung Out
Lagwagon
NOFX