Due Date (Blu-ray/DVD Combo + Digital Copy)
DVD Reviews | Feb 25th, 2011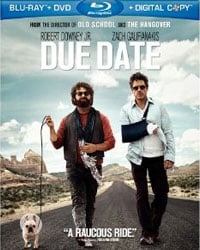 Starring: Robert Downey Jr., Zach Galifianakis, Michelle Monaghan, Juliette Lewis, Jamie Foxx
Written By: Todd Phillips, Adam Sztykiel, Alan R. Cohen, Alan Freedland
Directed By: Todd Phillips
Studio: Warner Bros
Buy On Amazon.com
Due Date may not live up to the stature of the Hangover in people's mind, but I still thought it was a funny road trip comedy. Just think of it as a Planes, Trains and Automobiles of this generation. Sure it has it's flaws, but thought it was more enjoyable than the Hangover. Yeah, I said it.

The comedy is centered around two characters, a stressful Father-to-be architect Peter Highman (Robert Downey, Jr.) and a wanna-be actor Ethan Trembley (Zach Galifianakis). They are both in Atlanta and trying to go to Los Angeles. Peter is rushing home to be with his wife, who is expecting and Ethan is going to Hollywood to be an actor. While encountering each other before they even get on the plane, they find themselves sitting near each other on their same flight as well. Ethan accidentally gets Peter and himself thrown off the plane by Air Marshals. They are put on the no fly list and have to find another way to LA. Peter reluctantly agrees to go cross-country with Ethan in his rental car. You can only imagine what happens along the way, as they try to get to their destinations.
Due Date made a decent chunk of change at the box office, so a lot of people seemed to enjoy it. I thought the movie had some funny moments, and it seems like a comedy that would get funnier with multiple viewings. Everyone is comparing this movie to The Hangover, mainly because it was directed by Todd Phillips and stars Zach G. But they are different movies, slightly darker humor than that movie. I thought The Hangover was one of the most overrated comedies of all time, and actually prefer this one to the Hangover…but that's just me. I like road trip comedies like Road Trip, Planes Trains and Automobiles, Midnight Run, and others. It's something about being on the road that the situations people can get in are endless.
Robert Downey, Jr. kind of plays the straight lace character this time around, and it's actually a bit of a change for him. Galifianakis is the wacky, out there character like he usually is in most movies. I liked his character in Due Date better. He wasn't a complete idiot, who had feelings and going through a rough patch with his Dad dying. But then again, the stuff he pulled in that movie was just freakin' stupid. Which brings me up to the point that a lot of the stuff that happened in this movie is unrealistic and unbelievable. I guess that's why it's so funny since it's extreme circumstances. I'm not sure the two worked that well together on screen; I'd imagine that's how it's suppose to come across since Peter wanted to murder Ethan. In the gag reel though, they both have fun chemistry and seem to enjoy the time acting on this movie.
The Blu-Ray/ DVD combo features deleted scenes, some mashups, a gag reel and the full Two and a Half Men scene with Jon Cryer and Coked-up Werewolf, I mean Charlie Sheen. The Two and a Half Men scene was pretty funny, the deleted scenes were okay. I liked the gag reels, because it's always fun to see actors mess up their lines.
Due Date offers enough laughs to keep you entertained throughout. I can see this not being liked by all like The Hangover but I feel it's a bit darker and a different type of comedy than that film. I'd suggest renting this one before buying but I have a feeling most people will find this at least somewhat amusing.
Features:
Deleted Scenes
Action Mashup
Too Many Questions Mashup
Gag Reel
"Two and a Half Men" Sequence featuring Ethan Tremblay
Video:
1080p High Definition 16×9
Audio:
DTS-HD Master Audio 5.1
Dolby Digital Francais 5.1
Espanol 5.1
Subtitles:
English, Francais, Espanol
Bottom Line: A funny road trip comedy that will get funnier over time.
Running Time: 95 mins
Rating: R
Extras Rating:
Overall Rating: