Toy Story & Toy Story 2- Two Disc Special Edition Blu Ray DVD Combo
DVD Reviews | Mar 25th, 2010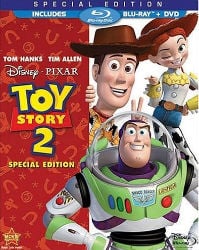 Starring: Tom Hanks, Tim Allen, Don Rickles, John Ratzenberger, Jim Varney, Wallace Shawn, Joan Cusack, and Kelsey Grammer
Written By: Rita Hsiao, Andrew Stanton, Doug Chamberlin, Chris Webb
Directed By: John Lasseter
Studio: Pixar/Walt Disney
Buy Toy Story on Amazon.com

Buy Toy Story 2 on Amazon.com
Pixar's first full length feature, Toy Story and it's popular sequel, Toy Story 2 are out on Blu Ray just in time for the next release, Toy Story 3, which looks to be just as funny as the first two films. Starring Tom Hanks and Tim Allen as talking toys, in a play room of their child owner, Andy, and shows how the toys interact with each other when they are not being played with. Unbeknownst to Andy, all the toys can talk and have their own personalities but must not reveal that to the Humans. Directed by Pixar's great director, John Lasseter, the work at Pixar/Disney put computer animation on the map and have yet to release a bad product. The films are wonderfully funny, cute, and brings a smile to everyone watching as it reminds each one of us of our childhood. If only, that happiness as a child would remain.
Woody (Hanks)is the cowboy deputy leader of the group, and when there is downtime in Andy's room, he tries to keep the toys mind off of things that would concern them about being replaced, like Birthday Parties. Considering Andy's birthday is this day, everyone has plenty to worry about. Unfortunately, Andy's mom surprises him with a special gift, a Buzz Lightyear toy, and when Buzz gets to the room, he believes he actually is the real Buzz Lightyear. Woody and the group try to welcome him to the room, but Buzz believes they are foreign creatures on a strange planet. Buzz (Allen) is quite different from Woody in the sense he is far more arrogant and believes he can save the world. Woody becomes increasingly jealous over Buzz's popularity in the room, and inadvertently Buzz falls out of the bedroom window, creating an uproar among the other toys. The rest of the first film deals with Woody and Buzz trying to co exist and get along as they try to get back home to Andy safely.
Toy Story 2 adds some depth to the already great world that is Andy's Toy Room. Buzz and Woody are now both in charge and are considered the leadership of the group. Everything you know and love about the first film is added upon in Toy Story 2 by also introducing several new characters, including the new villain Al The Toy Collector, played by Wayne Knight. He is out to find the perfect collectible, and will do anything he can to get his hands on it. Woody is that highly sought collectible, and is accidentally placed in a garage sale bin, in which Al tries to buy Woody from Andy's mother. Andy's mother does not give in and locks him in up in the cash box. Al is so desperate to complete his Woody's Roundup toy collection, a popular 50's Children TV show featuring Woody, he breaks Woody out and steals him. All this while Andy is away at Cowboy Camp. Buzz and the rest of the toys vow to break Woody out and return him safely before Andy returns. Woody when he meets the rest of the characters from Woody's Roundup, is apprehensive to return as being glorified in a Museum along with cast mates sounds tempting. New to the cast is Kelsey Grammer as Stinky Pete The Prospector, and Joan Cusack plays Jesse the Yodeling Cowgirl from Woody's Roundup.
As with other Pixar films, the films look absolutely phenomenal in High Definition Blu Ray. I was really excited to put these films on and see how they looked. I was certainly not disappointed. The colors just radiated from the film and especially these Pixar films where colors just jump out at you anyway. Very vibrant, and the clarity was outstanding. The audio came across nicely as well, and was a very balanced mix. If you want kids to be captivated for an hour or two, throw a Pixar film on and you will be able to relax.
I particularly enjoyed the new bonus features on both Toy Story 1 and 2. Most of the features were short in length. On each set, you get a special look at Toy Story one discussing the story and the other being the new characters to the series. I for one, cannot wait! The other extras I found funny and cute were the Animated shorts for Animator stories during the making of the film. To animate and articulate the account of some of these funny stories was excellent and I could have watched an entire Blu Ray of just those extras. I loved them. Pixar is a great place to work and these stories just illustrate that. I was quite pleased to see the special 10 minute tribute to the late great Joe Ranft, who passed away 5 years ago and you can tell the heartbreak and sadness is still there from all the Pixar staff. A talented story boarding artist/voice over actor/Pixar goof ball, Joe Ranft will be forever known around their offices and the void that will never be filled. You may know his work as Heimlich, the caterpillar in A Bug's Life. That was just one of many voices Joe could do.
It's hard to compare Pixar films to one another because they are unique in their own outright and if I were to recommend getting certain films, I would say get all of them, because as far as I am concerned, Pixar has not put out a bad film yet. Toy Story 1 and 2 provide everyone with great storytelling, heartwarming characters, and very funny dialogue. Toy Story 3 can't come fast enough.
Toy Story Features:
Disc 1: Blu-ray
New Toy Story 3 Sneak Peek
New Buzz Lightyear Mission Logs: Blast Off
New 3 Animated Studio Shorts
New Buzz Takes Manhattan
Making Of
Filmmakers Reflect
Deleted Scenes And Design Galleries
And Over 90 Minutes More Bonus!
Disc 2: Standard DVD
New Toy Story 3 Sneak Peek
New Buzz Lightyear Mission Logs: Blast Off
New 3 Animated Studio Shorts
New Buzz Takes Manhattan

Video:
Widescreen 1.78:1 Color
Audio:
ENGLISH: Dolby Digital Stereo
ENGLISH: DTS-HD MA 5.1
ENGLISH: DTS-HD Stereo
SPANISH: DD-EX 5.1
FRENCH: DD-EX 5.1
Subtitles:
English, Spanish, French
Toy Story 2 Features:
Disc 1: Blu-ray
New Toy Story 3 Sneak Peek
New Buzz Lightyear Mission Logs: International Space Station
New 3 Animated Studio Shorts
New Pixar's Zoetrope
Making Of
Toy Box: Outtakes & Alternate Scenes
Deleted Scenes And Design Galleries
And Over 60 Minutes More Bonus!
Disc 2: Standard DVD
New Toy Story 3 Sneak Peek
New Buzz Lightyear Mission Logs: International Space Station
New 3 Animated Studio Shorts
New Pixar's Zoetrope
Video:
Widescreen 1.78:1 Color
Audio:
ENGLISH: Dolby Digital Stereo
ENGLISH: DTS-HD MA 5.1
ENGLISH: DTS-HD Stereo
SPANISH: DD-EX 5.1
FRENCH: DD-EX 5.1
Subtitles:
English, Spanish, French
Bottom Line: Two of the best Pixar films and extremely entertaining
Rating: G
Toy Story Running Time: 81 mins
Toy Story 2 Running Time: 95 mins
Extras Rating:
Overall Rating: