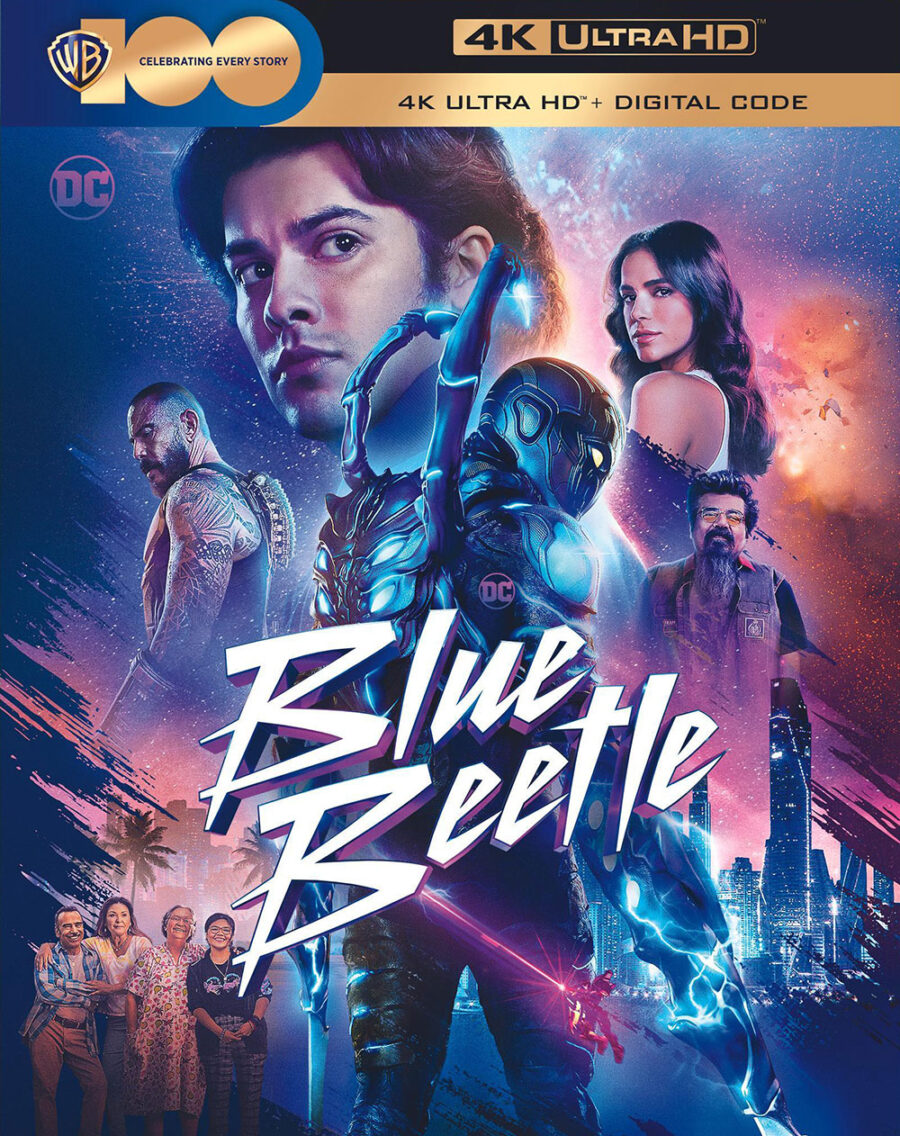 Warner Bros. Home Entertainment. Image used with permission for review purposes
Starring: Xolo Maridueña, George Lopez, Susan Sarandon, Adriana Barraza, Elpidia Carrillo, Bruna Marquezine, Belissa Escobedo, Raoul Trujillo
Written By: Gareth Dunnet-Alcocer
Directed By: Angel Manuel Soto
Studio: Warner Bros
Buy On Amazon.com
The latest DC movie is Blue Beetle. It's a decent superhero movie about family (cue Vin Diesel) and I thought it was enjoyable and worth checking out. Judging by the box office, I might be in the minority.

Blue Beetle is about Jaime Reyes (Xolo Maridueña), who returns home from Gotham Law University and learns that his family is about to be evicted. Jaime and his sister get a job at Victoria Kord's (Susan Sarandon) mansion but are quickly fired. The next day, Victoria's niece Jenny (Bruna Marquezine) gives Jaime the Blue Beetle scarab. She doesn't want Victoria to use it. Jaime's family makes him open it and turns out, the Blue Beetle is an alien artifact that gives him a ton of superpowers. Jaime has to go up against Kord, who plans on using it for evil and all that stuff.
DC has been in a bit of a downward spiral for awhile. I enjoyed The Suicide Squad, the first Wonder Woman and the first Shazam film. The rest has been mediocre but still slightly entertaining. Blue Beetle bombed at the box office for some reason but I didn't mind this one. I enjoyed it and thought it had elements to make it an enjoyable movie. Is it a great movie? No but I had fun watching it, which all that matters in the end for me.
Xolo Maridueña is fun in this role and clearly a good choice for the character. George Lopez is funny as Jaime's Uncle but the rest of the cast is forgettable to me. Maybe I'd have to watch it again for other stand-outs. Susan Sarandon plays a cliche, "mustache-twirling" corporate executive villain. Harvey Guillén was underused in the movie. The action scenes were better than the majority of the latest DC movies I felt. They weren't overly exhausting and CGI. The movie had a nice blend of humor, action and heartfelt scenes. Still, this movie could have been better in a lot of areas but I liked it better than Black Adam and Shazam 2 at least.
The 4k UHD has a 4 part documentary on the making of the movie, the character Blue Beetle and things around that. It's your basic making-of feature with interviews, tests, etc. There's a few other things but mostly the documentary thing is worth watching. The video and audio for the 4k is outstanding, super crisp and superior to watching it on streaming or Blu-Ray (obviously).
Seeing Blue Beetle with no expectations is the right approach. I enjoyed it, it's not the best movie in the world but it was entertaining enough that I'd like to see more of the character. The special effects and fight scenes weren't over the top, the script was probably the weakest since I feel like I've seen quite a few superhero movies like this. Spider-Man comes to mind, where a character doesn't have control over the suit, the tech, yadda yadda yadda. Again, it's not the best but I still liked it.
Features:
Blue Beetle Generations:
Origins
Production Begins
In Full Flight
A Hero's World
Scarab Vision
Blue Beetle's Nana Knows Best
Video:
Codec: HEVC / H.265
Resolution: Native 4K (2160p)
HDR: Dolby Vision, HDR10
Aspect ratio: 2.39:1
Original aspect ratio: 2.39:1
Audio:
English: Dolby Atmos
English: Dolby TrueHD 7.1 (48kHz, 24-bit)
English: Dolby Digital 5.1
French: Dolby Digital 5.1
Spanish: Dolby Digital 5.1
Audio descriptive
Subtitles:
English SDH, French, Spanish
Bottom Line: Not the best superhero movie but I thought it was entertaining
Running Time: 127 mins
Rating: PG-13
Extras Rating:
Overall Rating: