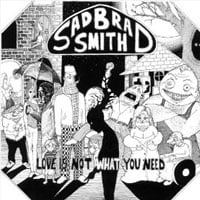 Record Label: S/R
Genre: Indie/Folk
Band Link: sadbradsmith.com
Buy on Amazon.com
Sweet, wistful indie/folk from this up-and-comer. A one-man band who's been garnering buzz since his inclusion in the Up in the Air Soundtrack, Sad Brad Smith combines bright, jaunty, Beatles-y hooks with a Mountain Goats indie style and gauzy, Elliot Smith-ish sadsack lyrics. Smith's vocals are clean and pleasant, reminding me a little of Death Cab/Postal Service's Ben Gibbard.

I've read some comparisons to Neutral Milk Hotel, but Sad Brad Smith's music is simpler and more laid back – almost minimalist – but it does have a gentle quirkiness and indie rock spirit about it. This is an impressive debut.
Bottom Line: Streamlined shoegaze/folk with poppy hooks.
Notable Tracks: Sure, We Are Free, Bad Mood, Tombs
Overall Rating: