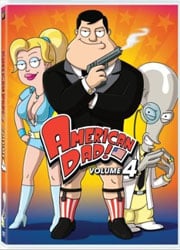 Starring: Seth MacFarlane, Scott Grimes, Wendy Schaal, Rachael MacFarlane, Dee Bradley Baker
Created By: Seth MacFarlane, Mike Barker, Matt Weitzman
Studio: 20th Century Fox
Buy On Amazon.com
It's been awhile since I last seen an episode of American Dad. It's not a bad show; it's just something I don't watch anymore. I simply watch too many shows during the season and this didn't make the cut. But that's the good thing about DVDs; you can watch TV shows that you didn't get a chance to see. American Dad Volume 4 has some funny episodes but some things just annoy me about the series.

American Dad is about The Smith family and their daily activities. Stan Smith is an ultra right-wing CIA agent, his wife Francine looks after their teenage son Steve and their daughter Hayley. Besides the kids, the family has a pet fish Klaus who's actually an East German Olympic ski-jumper who was transformed into a goldfish in some weird experiment. Plus they have an annoying Alien named Roger who gets himself into loads of trouble each episode and likes to dress up…a lot. This volume starts out with a spoof on James Bond. Stan Smith plays the Bond character, where he battles the villain Tearjerker (Roger) who's trying to show people a movie that will make people cry to death. Other storylines in the volume include Francine trying to have Stan open up emotionally and he says too much to her, Roger becomes head of the CIA's Alien Task force but in disguise, Stan goes looney and tries to find the hidden gold of Oliver North, Steve finally goes through puberty and lots of other episodes. The volume ends with the Xmas episode from earlier on called "The Most Adequate Christmas Ever."
There are 14 episodes included in the DVD. You would think that Fox would just put the DVDs by season and not by volumes? I thought this volume was pretty funny, and I liked some episodes like "Tearjerker," "Widowmaker," "Office Spaceman," "Stanny Slickers II: The Legend of Ollie's Gold" and "1600 Candles." Some episodes were better than others. The character of Stan is still funny to me, and Francine says a lot of funny things as well. But it's the rest of the characters that sort of annoy me. I just think the voice-over actors and character's voices are annoying in this show (after awhile). At the beginning the show, I used to like Roger but now he gets on my nerves and probably the most annoying character Seth MacFarlane ever created. Scott Grimes is okay at times, but sometimes the voice can be irritating. I always wondered why Seth MacFarlane makes similar cartoons with this, Family Guy, and now The Cleveland Show. Each cartoon has to have a talking animal, husband and wife, a teen kid and teen daughter. And some cases, a talking baby. Time to change it up a little Seth! But with that said, I still enjoy both Family Guy and American Dad. Obviously, Family Guy is a lot funnier American Dad in my opinion.
All episodes on this volume contain audio commentary with various people. Other bonus features include a 15 minute featurette on the James Bond spoof, "Tearjerker," featurettes on Comic-Con 2008 and Roger: Master of disguise. The extras are pretty good and give fans something else to watch besides the episodes. I liked the featurette on Tearjerker, and the Comic Con 2008. The Comic-Con 2008 was a 40 minute video of the cast doing a live read of an episode. For someone who's seen this for Family Guy, these things are great to see. Definitely watch that if you have time.
American Dad Volume 4 is worth buying if you like the series, but if you haven't seen an episode yet; be sure to check out the earlier volumes first. It's better to know what the hell is going on first. I think Volume 4 has a lot of strong episodes, but a few mediocre ones as well. One other complaint I have is the audio. The menus were really loud. But when you went to play the episodes, they were a lot lower. I thought that was stupid. Anyway, from not seeing American Dad in awhile, watching this DVD made me want to watch the series again.
Features:
– Audio Commentary on All Episodes
– Deleted Scenes
– Exclusive Featurettes: Tearjerker: And Then They Will Cry; Roger: Master of Disguise; Comic-Con 2008
Video:
Standard 1.33:1 Color
Audio:
ENGLISH: Dolby Digital 5.1 [CC]
Subtitles:
English, Spanish, French, Portuguese
Bottom Line: Some strong episodes, some weak episodes. It's a decent volume.
Running Time: 305 mins
Rating: NR
Extras Rating:
Overall Rating: