Fishbone @ Brooklyn Bowl, Brooklyn, NY
Live Reviews | May 5th, 2015
Date: May 2nd, 2015
Opening Bands: Easy Star All-Stars, The Skints
Believe it or not, this was the first time I saw Fishbone and I've been listening to them since the early 90s! But the main reason I went to this show was because of the UK band The Skints. This was the first time they played the US and they certainly didn't disappoint. Having Easy Star All-Stars and Fishbone playing the show was an extra bonus.

Before the bands came on, I got myself a burger at the bar which was pretty good. I needed something quick since the show was going to start soon but made out okay. The Skints opened up the show and played such a killer set! They were everything I hoped they would be and more. I was shooting the show but couldn't help but dance in place as I was shooting. They started with "This Town," which is off their brilliant new album FM. They went into "Rubadub" next with the multi-talented Marcia leading the vocals.
Drummer Jamie took over on vocals on the next track with "In The Night." Other highlights from their set included the Katy B cover "On A Mission," "Tazer Beam" and "The Forest for The Trees." I has happy to hear "Forest…" since Marcia plays the Flute on that one. The flute needs to be in more reggae music! The Skints finished up with a heavier tune "Culture Vulture" from their earlier album Live.Breathe.Build.Believe. I really hope they come back to the East Coast somewhat soon to play a headline set because they were excellent!
After their set, my brother and I met up with the Skints to film a quick session for Before The Concert so I missed the beginning of Easy Star All-Stars set. I never saw the reggae band before but they cover a bunch of stuff ranging from Michael Jackson to the Beatles to Pink Floyd. This was a co-headlining set so Easy Star All-Stars played over an hour and the crowd was loving it!
I enjoyed hearing some of the more upbeat covers and was dancing and taking pictures up front. I felt some of the tunes went on a little too long and jam-band-ish for my liking but maybe I was just really tired that day. I didn't know Buford O'Sullivan (former Scofflaws member) was in the band and he sang a song or two as well. I was definitely getting a kick out of hearing the cover of "Beat It."
Fishbone was last and went on like 11:15 so I knew I probably wasn't going to able to see all of their set. I was already getting tired during Easy Star All-Star's set but the crowd certainly woke me up during Fishbone's set. I was up front which I knew might be problematic since there was no photo pit. I got some great shots of Angelo but certainly paid the price for it with my back. There were crowd surfers, people pushing and it was chaotic, especially someone who was trying to photograph the show. I haven't shot a set like that in a long time but glad I finally had the chance to see Fishbone.
They started with "Party at Ground Zero," which was great to finally hear live. They played all the songs I wanted to hear except Ugly. "Skankin to the Beat," "Lyin Ass Bitch," "A Selection," "Everyday Sunshine" and "Ma and Pa." After that, I had to venture back to Jersey City and took about an hour and half since the stupid L train was down that weekend. I probably have stayed for the whole show if the show started earlier. I was happy to finally see Angelo and Fishbone perform, and he's just someone you need to see live. So energetic and iconic.
Here's some of my favorite pictures from the show. Be sure to visit SkaPunkPhotos.com for more this week!
The Skints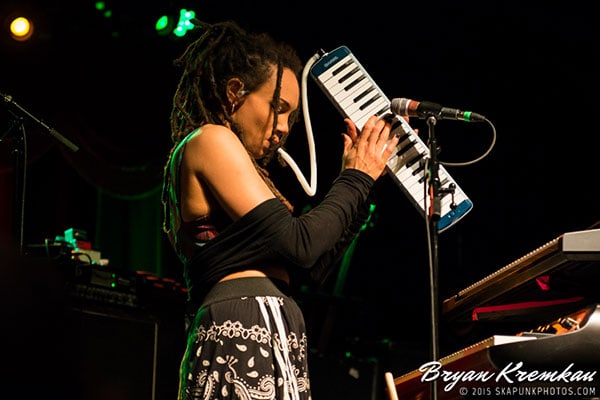 Easy Star All-Stars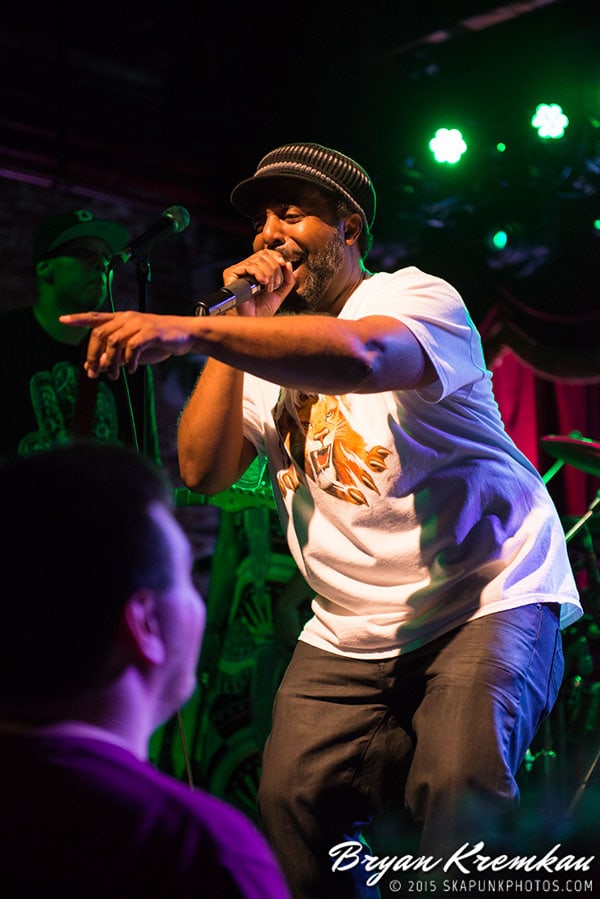 Fishbone